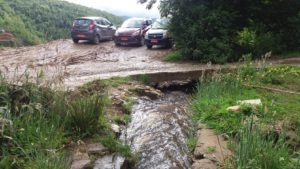 By Tshering
Not long ago, Ngabiphu was a secluded place. It was a place where people from Bap Lhakha would graze their cattle, collect leaf litter and firewood. The Ngabirongchu (stream) flows by- clean and clear.
The stream is tapped at several places to supply drinking water to more than four villages in what is today south Thimphu throm. The community still depends on the water from the stream as the water supplied by the thromde is not sufficient. But the water they are consuming doesn't seem clean.
There are settlements above the water channel. The channel is an open drain in several places. Locals said even sewage water is seeping into their drinking water. The latest settlement is the Institute of Management Studies, a busy centre. Surrounding the institute are several buildings. The sewage network cannot be linked to the city's sewage system as the place is out of the thromde's jurisdiction.
When it is raining muddy water drains straight into the water channel. Locals said residents are throwing their rubbish, even diapers near the drain contaminating the water. Some said the area has also become a dating place and condoms are seen strewn around.
The water is supplied to a thousand households in Babesa, Bap Lhakhang, Tsahlimaphey and Gepjaykha. A tshogpa, Kezang said that they had complained to the IMS management and some measures were put in place to not contaminate the water. Those who settled near the water source said they are discouraging people from washing their car after knowing that the water is being consumed. "We are strictly monitoring the area and not allowing people to wash their cars," said a shopkeeper below IMS.
Meanwhile, Bhutan Today collected water samples from three places sent for testing. Test result showed fecal contamination in two samples collected from below IMS, near the road and one from Laptsabamu (near Serbithang). The official who conducted the test on request, said that further tests needs to be conducted to conclude if the water is pathogenic. The qualitative was conducted only to check fecal contamination.
There is a tshogpa formed to monitor the water source. A tshogpa from Babesa said that they had complained several times after visiting the site. "No testing was done however," she said. "We had several meetings after we came to know about the settlement above our drinking water channel."
Tshogpa, Kezang said they had complained to the Thromde and the channel is being monitored regularly. He also added that they are looking for better water system for the health of people living in Babesa
Zangmo a-55-year-old woman at Babesa said she is not aware of the contamination of the water. "We are not sure if the water is clean or not, but we boiled and drink everyday."
Another resident, Denkar said the water is used only for cleaning and washing. "During monsoon it is very muddy and dirty." She said.