With the hash tag challenges taking its form to make a difference in the society, #TrashTag challenge has been the new social trend and the talk of the day particularly, in Bhutan recently. The social media has been flooding with pictures of people cleaning trash in all kinds of places across the country.
Meanwhile, 27 years old Bhutanese student from Queensland University of Technology, Brisbane, Australia currently pursuing masters in Social Work has taken the trashtag challenge to another level by making it a nationwide event. He calls it 'mega trash tag challenge' which will be carried out starting from 30th to 31st, this month.
9100 km away from home, Namgyel Wangchuck gathered people from Bhutan to coordinate the challenge through group chats and group pages in social media. He said, "The initiative needed no finance. It needed no effort. It just got carried out like butter." He added that the immediate achievement is how all the Bhutanese came together in support of the idea.
"We are known for our environmental efforts globally and this nationwide challenge is just one of many, carried out by our great nation. But primarily, the focus is to build a sense of nation-building by actively participating in the affairs of our nation. You don't have to do great things to serve your nation, all it takes is a simple as a trash tag challenge and being part of it", he said.
While in Bhutan, it was learnt that several volunteers came together under a coordinator, in collaboration with schools, colleges, institutions, civil servants, and among others to carry out the challenge.
It has been confirmed that ten Dzongkhags have full coordinators in action and the remaining Dzongkhags have smaller teams and schools participating. The total number as of now, is more than 1500.
One of the two coordinators from Samtse is Tashi Dawa, a student leader from Samtse College of Education (SCE). He explained that he would be teaming up with Pema Euden, a post graduate student from the same college to coordinate the challenge in collaboration with the municipality, dzongkhag environment officers, desuups, high school and SCE.
He said that one of the biggest achievements is the people coming together for one purpose and creating awareness and changing mindset towards waste management and its approaches. He added, "Our sole purpose for this initiation is to support the plastic ban in the country."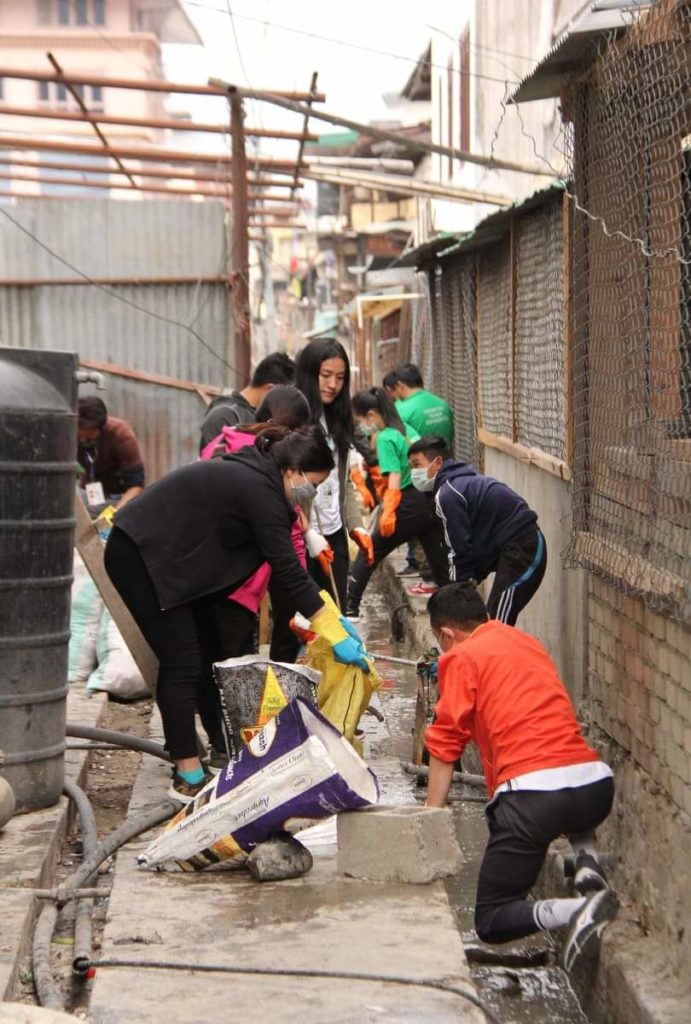 Similarly, Sangay Lhadon (18) is coordinating the challenge in Samdrup Jongkhar. She said that initially she wanted to take the challenge all by herself. However, with Namgay Wangchuk coordinating the bigger one, she said that she is more privileged to be a part of it and she is certain about making a difference. She added that thromde will be assisting the volunteers with garbage trucks after the trashes are gathered in one designated place.
Meanwhile, human resource officer of Aman Kora (Paro), Tenzing Yangzom Keerub along with her team, collaborated with Drukgyel Central School and Paro College of Education. She said that almost 200 volunteers took part in the event.
She said that the event is noble and people came together as a community to clean the town. She added, "Trash tag challenge attracts people because it allows us to show the pictures before and after, and this allows us to prove what we have done and what other people can do as well." She said that through this event, they achieved a cleaner community.
From eastern Bhutan, a student leader from Sherubtse College, Uttam Ghalley (23) mentioned that he is coordinating with Thinley Choiden from the same college. He said that he also wanted to do this and he expressed his gratitude to the overall coordinator for coming up with the nationwide event.
All the way from the southern hemisphere, Namgyel Wangchuk also acknowledged the coordinators in Bhutan for making the event possible. He said that they were the real leaders contributing to cleaner Bhutan and the world, at large.
Namgyel Wangchuk is the founder of Youth Caring Community. He serves at the Royal Tutorial Project, His Majesty's Secretariat Office and currently, he is on study leave.
By Kinley Wangchuk