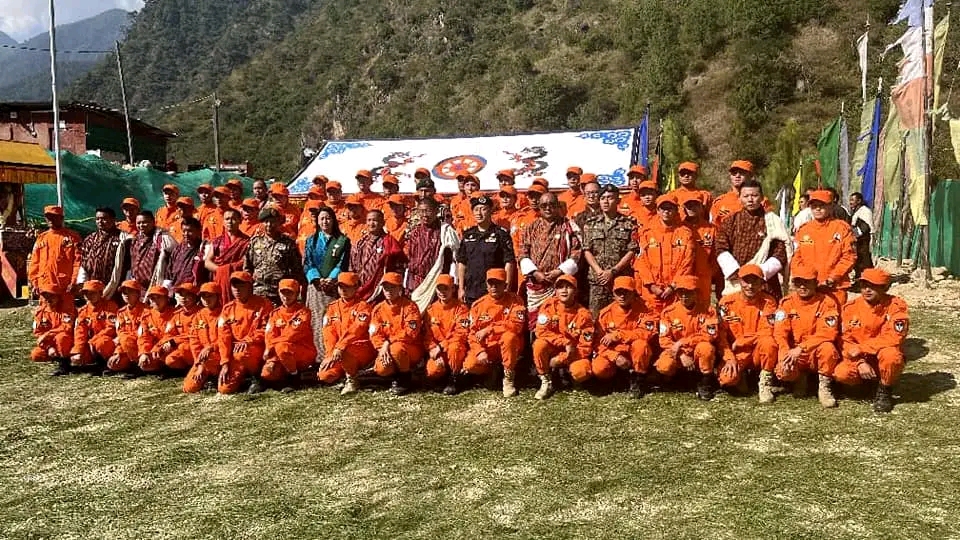 By Sangay Dorji
Thimphu
Under His Majesty's vision of providing adequate irrigation water to every citizen, the Khangdari-Godari Irrigation Project was initiated in December 2021. The project will benefit more than 154 households in Yangnyer Gewog and nearby settlements. The project renovated 3.5 kilometers of Khangdari-Godari irrigation at the estimated cost of Nu 15.5 million. The project was handed over to Yangnyer Gewog under Trashigang Dzongkhag for ownership, operation, and management on November 14, 2022.
The project was inaugurated on December 12, 2021, in partnership between the Royal Government of Bhutan and the De-suung Office, involving 63 De-suups with support from the Royal Bhutan Army and guidance from the Office of Performance Management, His Majesty's Secretariat.
Previously, due to the shortage of water, most farmers practiced subsistence farming and had sleepless nights during paddy cultivation as they had to fetch water from other places. According to Farmer Samchung, the water project will not only encourage them to cultivate more crops but also to produce surplus crops and rice to sell in the market. "The water project will help us produce more and save our time from fetching water from nearby sources," he added.
Further, thanking His Majesty the King for such a noble initiative, he further added, "The water project will not only help us for paddy cultivation but also promote winter farming among gewogs."
With the completion of the new irrigation scheme and the availability of water throughout the year, the gewog has come up with plans to begin winter farming. According to Gup Duptho, Yangnyer Gewog, the winter farming season will begin next year, although some farmers have already ventured into it.
He said, "As this year it's quite late, we have talked with an agriculture officer and farmers, they have agreed to begin the winter farming next winter."
Some of the farmers have already started with the cultivation of onions and potatoes in the gewog.
According to the Gup, the farmers will be supported through the provision of machinery and seed to encourage winter farming among the gewogs.
With the introduction of winter farming, the gewog is expected to be self-sufficient even during the long winter season.
Godari is situated at an altitude of 1000–1100 meters above the sea level, under Yangnyer Gewog, and is dubbed paddy fields of the gewog. It is located 17 km from Yangnyer Gewog Center towards Jamkhar Gewog and is popularly known as Jamkhardrang. Beside paddy cultivation, the place is suitable for growing onions, early chilies, and other vegetables as a relay crop.