… scholarship is offered at Norbu Rigter College
As part of iDesire's Corporate Social Responsibility (CSR), the computer retail store is sponsoring a business degree scholarship at Norbu Rigter College (NRC).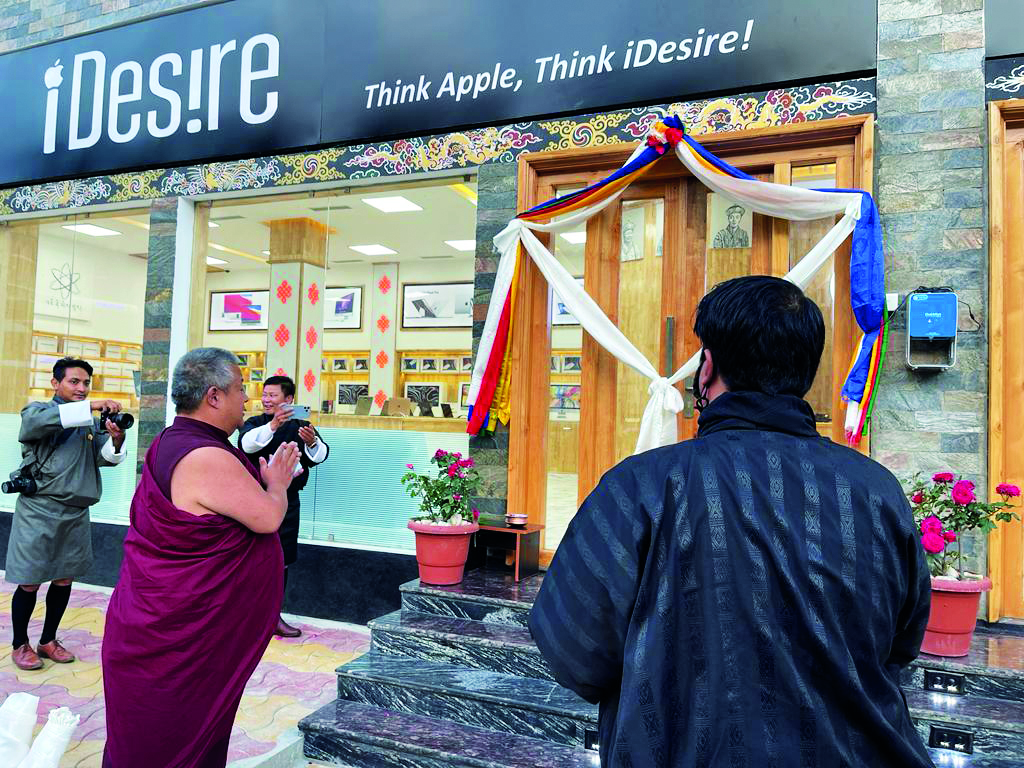 The scholarship includes full tuition fees, and boarding fee amounting to Nu 5,08,404.
According to iDesire, the recipient of the scholarship will also have a chance to work with iDesire as the candidate wraps the study.
iDesire hopes to provide scholarships to one candidate every year, and if the company finds the initiative viable, it intends to increase the candidacy.
Criteria involves a simple process, potential candidates will only need to submit a 350-word essay prompt, 'Why do you deserve this scholarship?'.
Additionally, other criteria include a marksheet for classes X and XII and the applying candidates must have passed marks in Dzongkha and Mathematics, or Business Mathematics.
The CSR team says the candidates will undergo a thorough screening process. The team says there is an evaluation team involving members from iDesire, and Norbu Rigter College that will jointly screen applications.
The result will be announced coinciding on the company's second foundation day, June 16.
The scholarship CSR team says, 'it is a part of our Corporate Social Responsibility'.
iDesire's CSR activities range in various fronts – technological, environmental, sports, welfare among others.
Some of the CSR include contribution in COVID-19 Response Fund, donation of essential food supply to Office of the Gyalpoi Zimpon, and De-Suups, iHUb's 'Let's Plant a Tree Campaign', and also involved in cleaning campaigns during national events. They also joined hands with CG7 Football Academy.
Also, thanking the company's customers for making it possible for iDesire to join NRC's Abundance Mindset Venture programme, and subsequently, waking to the programme's belief, 'that there are plenty of resources and successes to share – enough to spare for everybody'.
According to iDesire's founder, "iDesire" signifies the company's desire to give back to society. "Corporate Social Responsibility has been at the core of iDesire since the beginning and the company has consistently contributed back to the society on several occasions so far," Parsu Ram Biswa.
The sense of giving back to the society was ingrained in the founder's belief as his own high schooling was a sponsored one. "My high schooling was also compassionately sponsored by Her Royal Highness Ashi Deki Yangzom Wangchuck," he added.
Currently, two students are pursuing Bachelor of Business Administration at Norbu Rigter College.
iDesire has various business schemes including iDesire Technologies, iDesire Trade-In, iDesire Life-Style, and iDesire Explorations.
Through iDesire Technologies, it sells the Non-Apple Products such as Microsoft and Samsung Products.
iDesire Trade-In facilitates upgrading for the existing customers by buying back the old devices and selling those to other customers who has got budget constraints to get a new Apple device. Through this initiative, iDesire has been contributing in Re-Use of the old products which eventually may lead to further reduction of e-waste.
iDesire Life-Style will be selling high end gifts including premium watches, pens, shoes and leather accessories.
iDesire Explorations will handle travel and tourism in Bhutan.