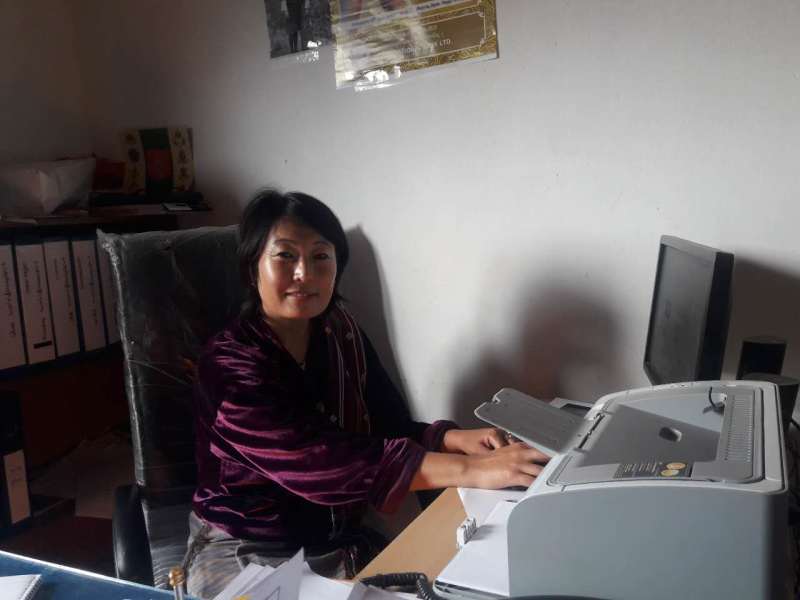 By Chimi Rinzin
Sherab Lham has been tirelessly serving her gewog for last 4 years since her election in 2013, dedicating most of her time for the benefit of the people.
At times she had rough days, but as time passed, confident grew and she believed in herself.
"If one knows how to manage time for both work and family, it is not much of a problem provided there is family support," she said.
Today, if given a chance, she is ready to take another giant leap and shoulder bigger responsibilities.
"I will contest in the next election. But not for the post of Mangmi, i will contest for the post of Gup," Sherab said.
Sherab Lham, 37, is a Mangmi of Hungrel Gewog under Paro Dzongkhag. She is also the chairperson of the community forest in her gewog.
Though, in the past women were deprived of various opportunities, today, they have surpassed the stereotypical mindset and are active in every field.
Sherab, a mother of 2 girls, said five years ago, during the Chiwog meeting, she was suggested by the people of her community to stand for the post of Tshogpa.
"Taking into consideration of the importance of the role Tshogpa can play for my community development, I decided to give a try," Sherab said.
However, she said it is sad to see voters' low confidence in women candidates and the stereotypical mindset that women's role is in the kitchen hampers women getting elected.
But, she mentioned, Hungrel is not one of those gewogs where people look down to women candidates.
The people of the gewog have elected all female candidates who contested the local government elections in 2016.
"We had three female candidates who contested for the local Government election and all three were elected to represent the people in the Gewog Yargay Tshogchung (GYT)," she said.
She also said people in her Gewog believe that men and women should be given equal opportunities and treated same.
Encouraged by the people of her Gewog, Sherab plans to contest for the post of Gup after completing her current tenure.
However, she said that where men take a step, as a woman she has to take double step to prove her capability and also to gain trust of the people.
She reasoned out, this is because for women, the way she talks, walks and behaves is tightly scrutinized and has to be always mindful and vigilant. "Any personal thing which does not affect the work can also be taken against her and her career."
Though government has been providing equal opportunities to both men and women it is often seen women representing in governance level is very negligible.
Sherab believes, difference can be made, if there were more women in planning and decision making levels. She said that women are in a better position to understand women and children issues.
Meanwhile, the people in the gewog today seek Sherab's decision and advice for any domestic and other social issues.
Lema, 54, a resident of Hungrel Gewog, said Sherab getting elected as a Mangmi from Tshogpa proves her capability.
"People in the gewog appreciate her service and they are hopeful that she contests and wins the next Gup election."
Meanwhile, Bhutan has two female gups, 24 female Mangmis and 135 female Tshogpas representing their communities.