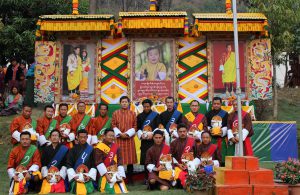 By Staff Reporter 
His Royal Highness Gyaltshab Jigme Dorji Wangchuck graced the grand finale of Mewang Gyalsey Archery Tournament, played on imported bow in the Yangphel style on February 8. It was organized by the Office of the Gyaltshab, Gyalpoizhing, Mongar as part of commemoration of the first birth anniversary of His Royal Highness Gyalsey Jigme Namgyel Wangchuck.
The programme started with offering of Chhoemey at the altar where Portraits of Their Majesties and HRH The Gyalsey stand and Zhabten (longevity prayers) to His Majesty The King and Zhabten to HRH The Gyalsey.
A variety of cultural programs including unique traditional songs and dances of the six Eastern dzongkhags were presented. A total of 140 teams from 20 dzongkhags participated in the league round of the tournament held in 11 dzongkhags from January 12 to 21. 39 teams took part in the knockout round and 27 in quarterfinals held at Gyalpozhing, Mongar from January 27 to February 4.
Semi finals were held at Gyalpoizhing, Mongar on February 5 coinciding with the first birth anniversary of HRH The Gyalsey.
There were 15 rounds in the grand finale. Samtse team took away the winner's cash prize of Nu 300,000 and one Chhana Dorje (Vajrapani) statue each to the players.
Toeb United from Punakha received the first runners-up's cash prize of Nu 240,000 and one  Chhana Dorje (Vajrapani) statue each to the players.
Good Boys from Paro received the second Runners-up's cash prize of Nu 180,000 and a Chhana Dorje (Vajrapani) statue each.
In addition, six other cash prizes of Nu 10,000-20,000 for the best archer of the tournament, final's most valuable player, best one-day highest league score, highest dobji, highest bull's eye and highest dobji baa-kor were awarded.
On the sidelines, HRH The Gyaltshab graced the opening of one day Mewang Gyalsey Nachhung Athletics for under 12 year age students organized at Gyalpoizhing in dedication to HRH The Gyalsey. The students of six schools under Mongar also offered their pledges, to read at least 15 books in the 2017 academic year, to respect, to be helpful and kind, and always abide by rules and strive for the best to HRHThe Gyalsey in the presence of HRH The Gyaltshab.
HRH The Gyaltshab also granted Tokha to the gathering including Lam Netens and monks of six eastern dzongkhags, Members of Parliament from six eastern dzongkhags, Dzongdags and other dzongkhag officials and local government members of six dzongkhags, armed forces, civil servants, businessmen, students, employees of regional agencies, participants and farmers from six eastern Dzongkhags, who were attending the tournament and the then on-going Fair Carnival.