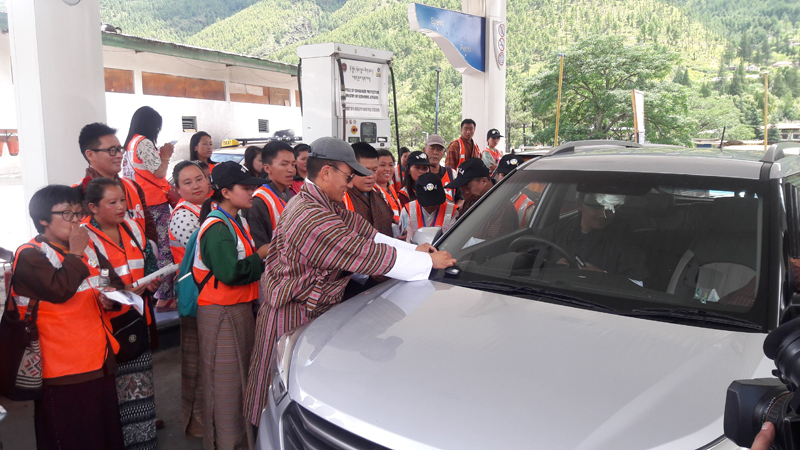 By Tshering
To reach out to commuters and drivers in specific and the general public at large, the Chithuen Phendey Association is organizing a drug and alcohol free advocacy program. The month long program started in the capital on August 4.
With the theme "Health and happiness", the program is initiated to advocate and create awareness to reduce drug and alcohol abuse and illicit trafficking of psychoactive substances in the country.
Executive Director of Chithuen Phendey Association, Tshewang Tenzin, said, "We also can play a little bit of our role as a parent, as a family member we should come forward in curbing the drug and alcohol issue in the country otherwise one member in the family who is addicted cause a severe distress in the household and to whole family similarly such issue may also bring a disharmony and so many un-necessary problem."
Over 100 vegetable vendors of the Centenary Farmers market joined the campaign to support the move. They also contributed 14 thousand ngultrum to the Association.
Dorji, Vegetable Vendor of CFM said, "These kinds of advocacy initiatives will not only benefit us but also the younger generations. We will be grateful if such programs are conducted more frequently in the future."
Another Vendor, Sangay Choden said the advocacy is not only helpful to youth but also to them. "When I go back to my village I will make sure I educate people on the ill effects of drugs and its consequences," She said.
Another 16 youth from Youth Volunteer Initiative joined the Association to advocate the drivers at a fuel station and taxi and bus stands.
Wang Gyeltshen, Youth Volunteer, said that they started their walk from Centenary Farmers market and walked till BOD near the RBP office stopping cars telling them about ill effect of drugs and tobacco.
The association will advocate travellers from Phuntshogling to Thimphu, Paro and Punakha. The Association is planning to conduct the advocacy aggressively on the three highways.
Tomorrow, association members will walk from Paro to Thimphu to advocate commuters along the highway.
The Chithuen Phendey Association, in collaboration with Bhutan Narcotics Control Authority and Bhutan Foundation is organizing the program for the second time.