…𝒕𝒉𝒆 𝒈𝒓𝒐𝒘𝒊𝒏𝒈 𝒐𝒑𝒆𝒏𝒏𝒆𝒔𝒔 𝒐𝒇 𝑩𝒉𝒖𝒕𝒂𝒏𝒆𝒔𝒆 𝒕𝒐𝒘𝒂𝒓𝒅𝒔 𝒕𝒉𝒆 𝒏𝒆𝒘𝒔 𝒎𝒆𝒅𝒊𝒂 𝒊𝒔 𝒂 𝒑𝒓𝒐𝒎𝒊𝒔𝒊𝒏𝒈 𝒅𝒆𝒗𝒆𝒍𝒐𝒑𝒎𝒆𝒏𝒕 𝒇𝒐𝒓 𝒕𝒉𝒆 𝒄𝒐𝒖𝒏𝒕𝒓𝒚'𝒔 𝒅𝒆𝒎𝒐𝒄𝒓𝒂𝒕𝒊𝒄 𝒋𝒐𝒖𝒓𝒏𝒆𝒚 𝒉𝒐𝒘𝒆𝒗𝒆𝒓, 𝒃𝒖𝒓𝒆𝒂𝒖𝒄𝒓𝒂𝒕𝒔 𝒂𝒏𝒅 𝒈𝒐𝒗𝒆𝒓𝒏𝒎𝒆𝒏𝒕 𝒐𝒇𝒇𝒊𝒄𝒊𝒂𝒍𝒔 𝒔𝒕𝒊𝒍𝒍 𝒂𝒃𝒋𝒖𝒓𝒆 𝒕𝒉𝒆 𝒎𝒆𝒅𝒊𝒂
Sonam Deki

In the past, the general public was hesitant to speak with journalists/reporters due to lack of confidence and fear of being held accountable even in matters affecting them or of public interest. However recently, there has been a change in attitudes towards media and an increasing number of Bhutanese opening up and speaking out about the issues of communities and national interest.

Even though most people still feel awkward speaking in front of the camera, they are always happy to converse off-camera.

Tshering, a resident of Thimphu said, "The recent trends suggest that Bhutanese people are now more open and comfortable with media."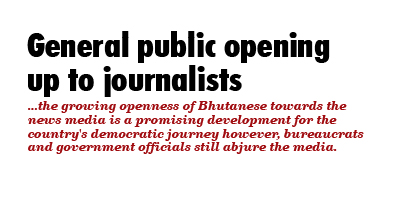 According to Tshering Lhamo, a school teacher in Thimphu, "In the past, we used to shy away from reporters because we were not sure if our stories would be portrayed accurately. But now, we see that the news media in Bhutan are doing a commendable job in reporting stories that matters. So, we feel more confident in sharing our stories with them."

This change in perspective among the Bhutanese people is also reflected in the increased coverage of local news stories by Bhutanese media. Earlier, people would only find news about event based or global events in the national media. But now, news agencies are focusing more on local news, giving voice to those who were previously unheard.
Pema, a farmer from Punakha, says, "We used to think that no one was interested in our stories. But now, with local news agencies covering our issues, we feel that our voices are being heard. It is empowering us by making our voice matter.

Wangyel from Paro said, "The issue in the village was unnoticed until it was reported in the national media. After the news, even the official and contractor expedited their work which was taking ages to complete".

"We used to be concerned about the consequences of expressing certain things, but today we know what is appropriate and necessary", he added.

Journalists are playing a vital role in informing citizens about government policies, social issues, and other important matters that can impact their lives. With the people opening up to the news media, Bhutanese democracy is becoming more participatory and inclusive.

One of the reporters said, "It is encouraging to see people becoming more willing to share their stories. As journalists, it is our responsibility to report on these stories and issues accurately and ethically. With the people's trust in news media increasing, we hope to serve them better."

"The people in Bhutan are generally reserved and prefer not to express their grievances or opinions in public. But now even if they don't want to talk, they do so on the condition of anonymity" a reporter said.

"There are some who personally contact us with their complaints and issues. They voluntarily discuss all of their problems and difficulties. I think they now recognize the value of the media and their mandates," he continued.
One of the reporters in private media said, "When we go for an interview, people used to avoid us as they feared us. Things have changed now, people come forward when they see the media and willingly express everything they have to say. "Make sure this is heard by people and authority"' is the final statement they give to the reporter after their quoted interview.

Another reporter from the private media said, "Bureaucrats and government officials need to take the cue from the growing trend of the general public and be more candid with journalists and reporters to share information in the name of transparency and accountability".

With the popularity of social media, many take it on these platforms to express their views, grievances and opinions. However, some of their intent of expression can be dubious with vested interest and under the fake accounts.
The growing openness of Bhutanese people towards the news media is a promising development for the country's democratic journey. As citizens become more informed and involved in the decision-making process, Bhutan is poised to become a more vibrant and inclusive democracy.