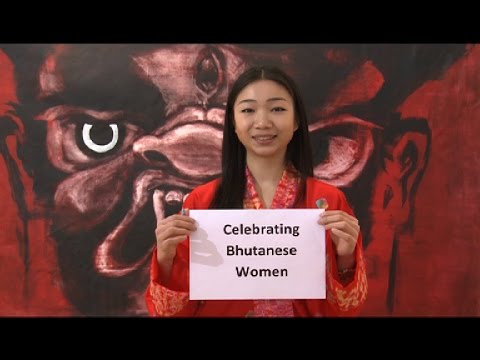 By Tshering
For Zimbiri, the journey for the love of art began since her high school days and since then she had never looked back. She has done two Art exhibitions so far.
Zimbiri, 26 year old from Thimphu is a graduate from Wheaton College, MA, USA.
Her first art work titled 'Faces' was inaugurated in 2015. She said around thirty four artworks were displayed at the exhibition and the art illustrated the masks people wear.
After two years of her first exhibition, she took the center stage yet again. Her exhibition titled 'FOUND ICONS' was officially inaugurated at the Royal Textile Academy on the first week of October this year.
As an artist, Zimbiri set the stage with "FACES" where she expressed in full form and function, her ability and courage to play with colours and emotions; firmly establishing her mastery over ink and colour, and the fact that she could draw just about anything she set her mind to.
Zimbiri encompasses in each piece, a thought provoking and cohesive concept: her observations of traditional iconic art, as she simultaneously reveals and questions- allowing for an entirely new conversation whilst giving the audience ample food for thought.
Her work has already been touted as a force that will revolutionize contemporary Asian Art. It's more like two shows in one: the first explores new terrain with embroidered fabric works and the second with paintings. In both, she casts a critical eye on her inherited traditions and iconography, while bringing in references to international modern art.
Bhutan Today asked her few questions based on her work
When did you start the contemporary art?
I have always enjoyed art, but it wasn't until high school when I was doing my IB (international Baccalaureate) that I started to take it more seriously and finally in college when I considered it as a career option.
What is your exhibition all about?
The show is titled Found icons. The idea of Found icons was inspired by found objects. Found objects is defined as art created from undisguised, but often modified, objects or products that are not normally considered materials from which art is made, often because they already have a non-art function. I am in awe of how we can completely transform and charge an object or image through setting and context. We change the perspective in which we look at the object and with that transform the everyday object into a piece of art.
Like Found objects, found icons take preexisting images from traditional Bhutanese art and presents them in a way that creates a new conversation. It gives the audience a stage to consider how the re-presentation of the icons creates a scenario reflecting society and its behavior. The use of traditional Bhutanese icons are ideal for this as they are singular in their uses much like the generally (intended) singular functions of everyday objects. Structured and recreated with such precision and lack of variation like mass produced objects.
What are the materials used in your art?
In my work I have used traditional Bhutanese 'sa-tshen' (earth paint) on 'rhay-shing' (cloth strung on wood) traditional Bhutanese canvas as a tribute to my rich culture and heritage. With the great fore sight of our kings our traditions and culture has been preserved and practiced to this day. Which gives me the freedom to play and experiment, comforted in the knowledge that our Zorig Chusum (School of 13 arts) will be there to continue in the preservation of this.
How many arts has been displayed or made so far?
There are 17 paintings 5 Ghaytshays and 1 thongday.