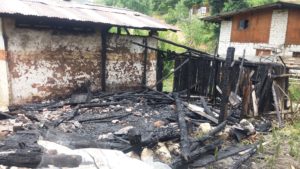 By Tshering
Gyeltshen, 65, is a lost man. A bucket, a LPG cylinder and a shovel were all he could save from the fire that razed his hut to the ground at Changzamtog on Thursday.
The lhakhang caretaker was at Kuenselphodrang School when he heard the news. Gyeltshen is physically impaired and stays alone with no means of earning either.
"I have lost everything and have nowhere to go. I am helpless and don't know from whom shall I ask for help," said Gyeltshen.
The fire razed a temporary shed, which is attached to an lhakhang above the Muscle Factory gym in Changzamtog on Thursday morning at around 11 am.
The fire was brought under control within an hour with the help of fire fighters, dessup and local people. Two Indian labourers were injured. They were referred to the National Hospital for further treatment.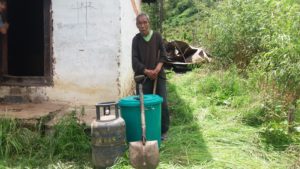 An eyewitness said she had rushed to the scene after the fire was spotted, while she was working in kitchen garden and called for help. She said three Indian labourers came to the scene and were able to save a gas cylinder and injured themselves in the process.
An eyewitness, Sonam, who is also a neighbor, said she cut off a water supply line and fought the fire. Another resident, Yangchen said that the shock wave form the blast broke window glasses of the house nearby. "It was really scary," she said