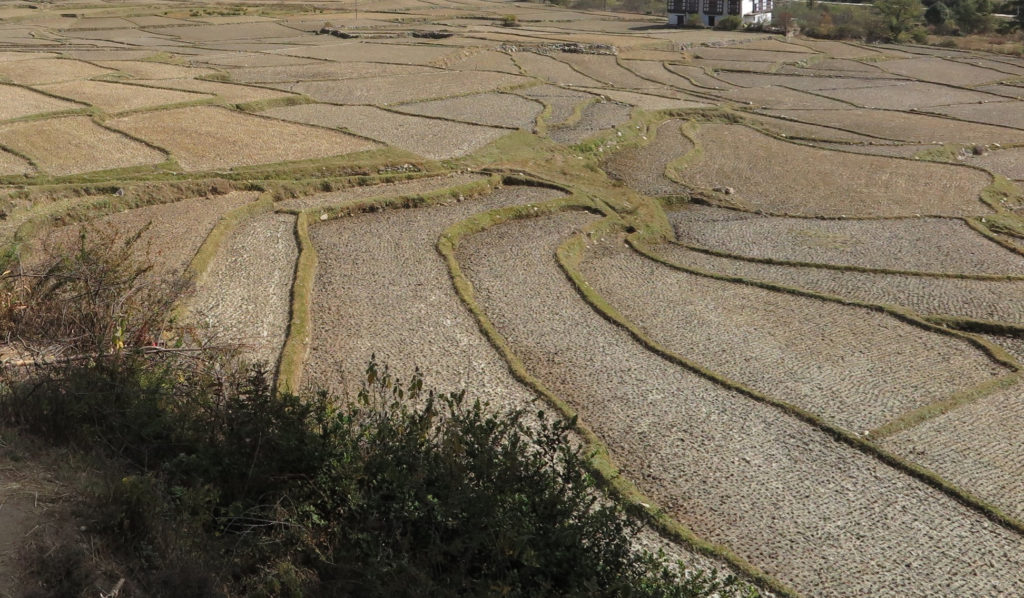 By Chimi Rinzin
More than 80% of the population is involved in agriculture in our country. Agriculture has been the main source of livelihood for generations. But today, due to various reasons, it seems farmers are losing interest in agricultural work and as a result most of the lands are left fallow.
As per the RNRC Newsletter released recently, most of the agricultural lands are often left barren because of lack of necessary factors such as reliable water sources and poor irrigation systems, land fragmentation, absents of land owners, crop predation by wild animals and farm labor shortages.
According to National Land Cover Mapping 2010, only 112,556Ha (1,126km2, 2.93%) is the actual cultivatable agriculture land. Of this about 31,361Ha is wetland, chhuzhing.
The recent study shows that the total wetland left fallow was 6,402 acres. Samtse Dzongkhag had the highest fallow wetland with1, 273 acres followed by Sarpang Dzongkhag with 748 acres.
Agriculture ministry has been initiating and encouraging farmers to revert the fallow lands but it is found that farmers are reluctant to cooperate with the ministry. Farmers started complaining that farming is not profitable.
When asked why some framers are not willing to cooperate with the agriculture ministry to revert the fallow lands, the Chief Agriculture Officer, Agriculture Production Division (APD), Tashi Wangdi said it is because of no attractive or adequate incentive packages from the government to encourage farmers in reverting fallow land to cultivation.
"Particularly, bringing fallow land under rice cultivation is economically not attractive. In general, rice cultivation is economically not profitable as compared to other crops," he added.
Studies show that with loosing of the fertile land to urbanization and yearly increase of fallow lands, it would impact the food sovereignty along with loosing of preferred local paddy diversity.
Inline with this, several attempts were made in Mongar Dzongkhag to encourage farmer to revert the fallow wetlands. After much attempt, the agriculture ministry was able to revert 50 acres of fallow land which belonged to 44 households in Drepong and Okhang gewog. It was left fallow for more than nine years. The ministry also built 2km irrigation channel for the farmers.
To farther encourage the farmers, the ministry is planning to facilitate in leasing the fallow land to Farm Machinery Corporation Limited (FMCL) and other takers, individual, groups or private entities who are interested in leasing the land.
"We are planning to support in farm mechanization and to support the construction and renovation of the irrigation channels," the chief added.
The newsletter reported that, since shortage of water is one of the main reasons for not being able to cultivate paddy, it is high time that government should explore alternatives to make water available to the farmers.
"One promising intervention or the technology would be constructing reservoirs and dams to trap small perennial stream compromising the flora and fauna downstream for the time being. The monsoon rain is uncertain for the farmers to undertake paddy farming," the newsletter reported.
As per Bhutan trade statistics 2016, the total rice imported was 87, 671 MT in 2016, while export was very negligible.