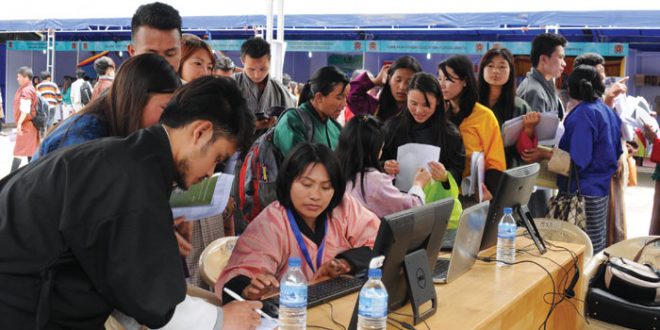 By Yeshi Choden
Though Bhutan is a small country with small population it has been struggling with the employment problem since decades.
As per the 13th National Labour Force Survey report, the national unemployment rate has decreased from 2.6 percent in 2014 to 2.5 percent in 2015.
However, the youth unemployment rate increased by 1.3 percent in 2015 from 9.4 percent in 2014.
The report stated that the unemployed youths are either school leavers, middle secondary and higher secondary levels, or mainly general university graduates.
"Jobs are limitless, but number of job seekers increase yearly, our economy is not stable and as a interim measures, we have started the overseas program," Minister of Labour and Human Resources, Ngeema Sangay Tshempo told TheBhutanese in 2016.
However, many are raising eyebrows over overseas program.
"Our youths are being deployed in other countries and these jobs are never permanent. They come back and are still unemployed. Rather they loose precious and prime years of their life," said Namgay, a private lawyer.
"I think overseas employment program is playing part in reducing the current unemployment rate but the jobs provided outside the country are failure because most of them return home after two to three years," he added.
Chimi Dorji, a student studying in India said, "Government is failing to harness the skills and the knowledge of the talented youths by sending them abroad. They should find other alternatives and solutions to make our youths engage in the country itself, which will help to develop our nation as a whole. "
"Though, overseas program is reducing unemployment, people should know that it is temporary. It will definitely not do good to our country in future."
Kinley Penjor, who graduated recently, said that overseas program is already doing damage to the country. "We are losing our talented youths to other countries. Instead of nurturing their skills and making them contribute to the nation building, we are making them think that they don't have future in their own country."
"I fear, if this brain drain goes on, it will leave our country empty of young talents in the future."
On the other hand, some feels that it is good initiatives from the government side.
"Since our country has small job market, there are not enough jobs that government can offer to all. So instead of staying in country without any earning, it's better to work overseas if we get secure and safe jobs even for few years," said Pema, an artist.
Tshering Dorji, an architecture said that oversea employment depends on the program that you are going for. "In Japan you can study as well as work, for Middle East countries you can earn and save as well. At the end they contribute towards country's economy."
The Ministry has pilot the initiative with countries where English is spoken. Theses countries are Middle East countries, Australia, Canada, Singapore, Japan and Thailand.
They are sent through the ministry and registered employment agents to work in the tourism and hospitality, construction like IT, accounting and financing, sales representatives, care givers and teaching.
Today, there are about 1,150 males and 2,644 females working in foreign lands through overseas employment program.