…𝒅𝒖𝒕𝒚-𝒇𝒓𝒆𝒆 𝒈𝒐𝒍𝒅 𝒔𝒂𝒍𝒆𝒔 𝒃𝒆𝒈𝒂𝒏 𝒊𝒏 𝑴𝒂𝒓𝒄𝒉, 𝒂𝒏𝒅 𝒂𝒕 𝒕𝒉𝒆 𝒔𝒂𝒎𝒆 𝒕𝒊𝒎𝒆, 𝒂 𝒕𝒐𝒕𝒂𝒍 𝒐𝒇 7,385 𝒕𝒐𝒖𝒓𝒊𝒔𝒕𝒔 𝒂𝒓𝒓𝒊𝒗𝒆𝒅 𝒊𝒏 𝑴𝒂𝒓𝒄𝒉 2023
Sonam Deki

Bhutan has put-up duty-free gold for sale to the tourists visiting the country, who may have been deterred earlier from traveling in because of the revised Sustainable Development Fee (SDF). With implementation of the new SDF, the inflows of tourists from the neighboring countries were also deterred affecting businesses in the southern bordering parts of the country. However, in Phuntsholing, businesses dependent on tourists have indicated some positive development.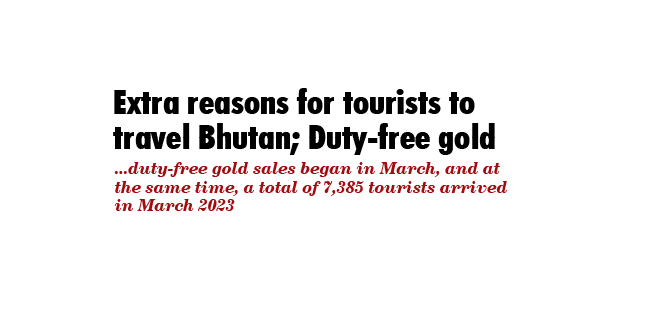 The goal is to provide extra reasons for tourists to travel to Bhutan, according to Dorji Dhradhul, Director General of the Department of Tourism. "Although it moves slowly, I believe it is accomplishing its goals. According to what I've heard, sales of gold are up this month compared to March. Therefore, it is a positive sign as it is increasing. The majority of people don't know about it now, but we are confident that it will become more widespread in the future.
"This introduction is another offer to tourism," he continued. "Duty-free gold is available to tourists in Bhutan; it is both an attraction and a product. It is a brand-new commodity for our tourism industry; some visitors will come to Bhutan just to purchase gold."

On March 1, gold selling began in stores (Duty free outlets) in Thimphu and Phuentsholing, and at the same time, the inflow of tourists has been improving.

A total of 7,385 tourists arrived in the month of March, 2023 which is slightly less than the number of arrivals in October, 2022 the strongest month so far with 8,313 arrivals. From April 1 to 15, the country has recorded arrivals of 7,072 tourists.

A total of 40,665 tourists have arrived in Bhutan from September 23, 2022 until April 15, 2023. Out of the figure, 23,944 are Indian guests who have paid Nu. 1200 a person, per night, while 16,721 are other international guests paying USD 200 per person, per night. Out of the 16,721 guests, 8945 have paid the old SDF rate of USD 65, while 7776 have paid the revised SDF rate of USD 200. The Department of Immigration has confirmed that this arrival data does not include those visitors who have come as official guests, or for meetings, conferences and exhibitions, or those invited by government agencies.

"The numbers are looking encouraging and gradually picking up. Beginning this year, we have seen more tourists come in paying the new SDF rate as compared to the old rate. The department of tourism will continue efforts to facilitate more positive global coverage in Bhutan and generate more tourist arrivals," Director General further added.
When tourists purchase 20 grams of gold, they must pay the Sustainable Development Fee (SDF), show a receipt attesting their stay of at least a night in a Department of Tourism-approved hotel, and make their payment in US dollars. The business folks also benefited from rules set for the duty-free gold buyers.

The majority of business owners in Phuentsholing concurred that there has been a little rise in customers since the country initiated sale of Duty-Free Gold, which is beneficial to their businesses as well.

"I can notice a slight change in the number of tourists after the opening sale of duty-free gold," said an official from Hotel Amo Chhu View. "More than 30 tourists came to our hotel on April 19 mainly to purchase gold and there were tourists who came for holiday packages too."

"We didn't have any tourists who specifically came to buy gold, but some of the tourists who came bought it when they saw," said Tshering, a receptionist at Hotel Phuntsholing. "Following the 24-hour Sustainable Development Fee (SDF) waiver, we have been inundated with inquiries about gold and SDF. Although not much, there has been a slight increase in customers after the opening of duty free gold," he added.

The owner of Hotel Gadhen Namgayling stated, "We didn't receive any visitors who came intentionally to purchase gold, but the visitors that were here took the hotel confirmation voucher to buy gold. Five tourists have taken the hotel confirmation voucher to purchase gold as of now."

Passang Dorji, working at Tashi Namgay Grand said, "I cannot say much about the duty-free gold, but since the SDF was waived for 24 hours on April 14, we have benefited much. This was advantageous for all businesses, not just hotels. An increase in tourists has been observed after that."