…𝒘𝒊𝒕𝒉 𝒄𝒉𝒂𝒏𝒈𝒊𝒏𝒈 𝒕𝒊𝒎𝒆𝒔 𝑩𝒉𝒖𝒕𝒂𝒏𝒆𝒔𝒆 𝒎𝒖𝒔𝒊𝒄 𝒉𝒂𝒔 𝒆𝒗𝒐𝒍𝒗𝒆𝒅 𝒂𝒍𝒐𝒏𝒈 𝒘𝒊𝒕𝒉 𝒔𝒕𝒓𝒐𝒏𝒈 𝒆𝒔𝒔𝒆𝒏𝒄𝒆 𝒐𝒇 𝑩𝒉𝒖𝒕𝒂𝒏𝒆𝒔𝒆 𝒄𝒖𝒍𝒕𝒖𝒓𝒆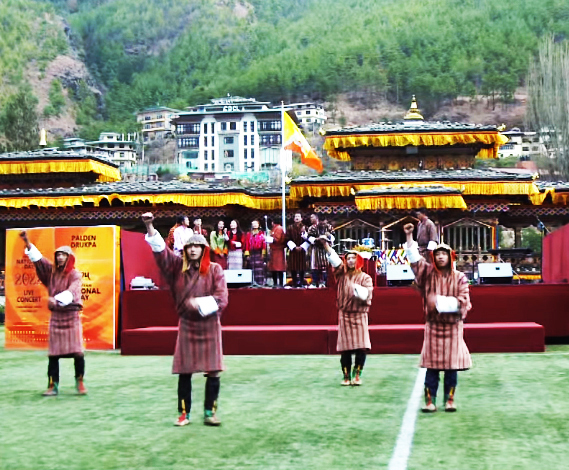 Tenzin Lhaden

Before the introduction of electronic instruments in the 1960's, spiritual and folk music dominated the melodic landscape of the country. "Historically, Bhutanese have shared a distinctive music culture through song and dance to honor their most significant ceremonies, to celebrate and to socialize. For instance, "Samyeki Salang," which is believed to be a song composed to celebrate the construction of the Talo Sa-nga Choling, a well known religious centre in western Bhutan," said Tshering Dorji and Yeshi, folk singer.

Traditional folk music has been here for a much longer time. "What gives meaning to folk music in their purpose, all the way from entertainment, and offering respect to divinities," said Tshering Dorji.

"We are seeing change in Bhutanese music, but as long as our music is true and cultural, it will be appreciated by people across the boundary. Moreover, if we focus on our identity and create songs even in this changing world, our culture and tradition will be preserved and promoted as well," said Yeshi.

Earlier, Bhutanese primarily paid attention to Indian pop music which was easily and conveniently available, but with the introduction of rigsar in the 60's, it became the dominant style. The first major music star was Shera Lhendup, whose career began after the 1981 hit "Jalam Jalam Gi Azhi".

Bhutan has likewise been seeing an explosion in the popular Bhutanese music such as the B-Pop show that was held to promote creativity in May, 2018 by M-Studio. Studious these days are equipped with the latest recording programming and gears. M-Studio other than being a recording studio, they have also formed B-Pop (Bhutanese popular music).

"With the introduction of B-Pop, more youths are engaged in Bhutanese music recordings. They are promoting dzongkha language by creating lyrics in dzongkha. With most of the albums and films produced in Dzongkha, the role of the Bhutanese music in the advancement and preservation of the national language Dzongkha has been widely acknowledged," said Choeying Jamtsho, organizer behind B-Pop.

He added that, "Bhutanese music is growing and playing its own role in shaping and representing contemporary culture. In Bhutan, Bhutanese songs dominate the repertoire of school children."

The growth of the modern Bhutanese music according to Palden Dorji, a film maker, has been very rapid. "No one would know where it is heading but the modern Bhutanese music industry is strengthening its own culture far away from home," he said.

"Modern Bhutanese songs have been playing its part in adapting oneself to the changing times and tastes. I like modern Bhutanese songs which has had adapted to changes, but it must be original. It has made its way through and it is doing well. It has crossed the neighboring borders, yet, we still need to prove that it is Bhutanese by origin and identification. In fact, the question of crossing the border does not arise for music, for it has no 'boundary'," he added.
2022's hit song "Nyingthuenma," by Sonam Wangchen and Chogo, mirrored Bollywood and Hollywood songs hitting 1.7 million views in a year with all the love and support from the national and international fans. Everywhere the troupe went, they were welcomed by the people who came in droves to see them perform. For instance, Sonam Wangchen and other singers were heartily invited to Sikkim by their supporters to perform.

Also, with the advent of social media, musicians have been able to give fecund grounds to the evolving genres of the Bhutanese music. 'Sha Dha Thra' sung by Sonam Choki received massive love and support from people around the world. This song was even played during the 5th Tawang Festival 2017 and around India. This shows that the new Bhutanese music is the expression of forward-looking Bhutan.

The modern Bhutanese music is evolving. The young people dance to Bhutanese songs set to funky modern rhythms. They wear ghos and kiras the national dress and entertain the crowds with moves that are a fusion and blend of the traditional and modern style the best appealing to the current crowds.

In the process, the modern Bhutanese music has played its own significant role in shaping and representing contemporary Bhutanese culture, additionally, preserving the traditional and cultural heritage of the country.