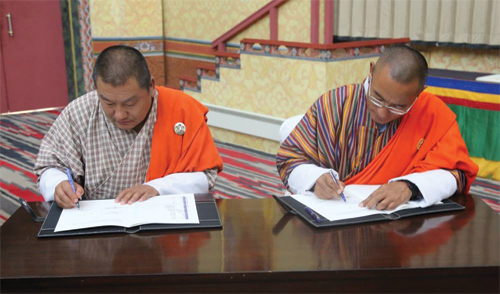 By Tshering
Each chiwog in the country will have at least an electric fence installed, according to the Annual Performance Agreement (APA) 2017-2018 signed between Lyonchhen Dasho Tshering Tobgay and agriculture minister Yeshey Dorji on Friday.
The ministry will also find ways to improve rice production to achieve cereal self-sufficiency. APA is aimed at establishing clarity and consensus on the ministry's annual priorities with the 11th Five Year Plan, and to ensure full utilization of budget among others and to improve good governance. It was also signed to provide equitable and inclusive quality education and lifelong learning, and to prepare the students with appropriate knowledge, skills and values.
During the signing Lyonchhen also said that he was happy to see student's engagement in agricultural activities during the summer break. "Our youth are taking interest in agriculture work and this is wonderful news," Lyonchhen added. He also thanked the staff of the agriculture ministry for the contribution of Agriculture sector to the GDP. The contribution from the sector was 4.56 in 2015.
Lyonchhen also witnessed the signing of APA between the Secretary and Director Generals and Directors of the ministry.
Later in the afternoon, Lyonchhen also signed APA with education minister Norbu Wangchuk and also witnessed APA between the minister and Secretary and the three Department Heads (DAHE, DYS, and DSE)
The APAs of the education ministry and three departments for 2017-18 states that they would continue to work towards ensuring quality, access, and sustainability of school as well as higher education. It also seeks to strengthen adult literacy and youth development programs.
On the new focus areas of APA 2017-18, education minister emphasized on up-scaling programmes such as, ECCD, special education, youth engagement, counseling services, and ICT in Education in addition to the ongoing reforms around school, curriculum, and teachers, amongst others.
During the event, Lyonchhen also stressed on the importance of providing quality education to all children since education is the only "social equalizer." He said if we fail to provide quality education, then it could also become a great "social divider.
Lyonchhen also expressed his deep gratitude and appreciation to all members of the education family for their hard work and commitment to provide better education to the children.
Lyonpo Norbu Wangchuk said that out of many reforms, one will be distribution of rice to the school feeding programs, promotion of drama and provide access to napkins in schools.
He added that the ministry will focus on establishment of central schools, strengthening ICT, one ECCD in each chiwog, enhance counseling services, and strengthen youth engagement programs.
The minister also shared the success of reforms such as the launch of masters degree for 40 teachers in Samtse and 32 in Yonphula, the national professional development (PD) program, and the establishment of the Sherig research endowment fund.
About 150 officials from the ministry witnessed the signing of the APAs 2017-18.