The village had no proper drinking since 2010
By Kinley Yonten
For the last three years, Dema, 47, had been the same routine every ay. She wakes up early takes a three-hour uphill walk or walk down to the stream to fetch drinking water.
This is because Nangar village is increasingly facing water shortage. There is a water tap outside her house, but it is dry. "It has been more than three years now," she said.
Her neighbour Phuntsho depends on his 25-litre jerry can to fetch water everyday. "I have two water sources but it is drying now," he said "Sometimes I go to a stream that is about one and half hours' walk away from the village to fetch water."
Nangar, has 35 households and is sparsely populated with about 52 people. The people are subsistence farmers depending on potato, buckwheat and a variety of vegetables. Villagers are connected with the gewog center and other chiwogs via a farm road, often not passable during the monsoon.
The villagers began facing the problem since 2010 and villages like Yamthrak, Domkhar, Lower Nangar, Gyatsa, Trakkar, Nimalung Dratsang, Samtenlling, Zhuri, Phurgeon, Zhichag, Baling and Phogor are short of water.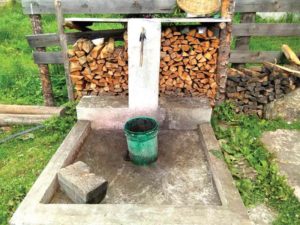 Similarly, Ungsang village in Chhumig gewog faces shortage of drinking water during winter and spring. Water sources were damage by the floods and the community has faced with drinking water shortages as the water sources are drying up this days.
A villager, Dorji, 47 form Ungsang village said, "Some farmers have migrated to towns because of lack of water." He added that water shortage is severe. Each household owns a tap, but from it comes no water.
Another farmer, Jamtsho 59, said that during winter and spring, the villagers face a lot of problems due to shortage of drinking water. And during the summer, it is difficult to locate the source of the water because of the damage caused by floods.
Khandu Wangchuk 45, another farmer from the Ungsang village, said that the most pressing issue in their areas is inadequate drinking water. "This has slowed down our target of food self-sufficiency, nutritional improvement and income generation of the farmers in our village," he said.
Since paddy is not cultivated in the village, irrigation water is not a serious issue and this has not hindered of other crop production. Sometimes the farmers cultivate various vegetables for self-consumption by only depending on rainwater.
This year the villages didn't receive any rain during transplantation time of cabbage, sag and chillis that was further aggravated by prolonged sunlight because of which most nursery plants dried up. "We even feel like migrating to urban places under such circumstances," Zangmo said. "Apart from irrigation, even drinking water is scarce in the villages."
Chhumig Mangmi, Chungdi Tshering said that in most of the villages, they have solved the drinking water issues this year. Yet, there are two villages such as Nangar and Ungsang are facing problem with the drinking water and this will be solved very soon.
"The problem will be solved very soon in these two areas. Two villages have the same problems that the water sources are far from the villages," he said.
He added that the gewog Tshogpa (GT) committee will discuss about it and will supply the additional pipes if the budget is sufficient in this financial year. If not, we already have proposed the budget in next financial year.
Chungdi Tshering also said that the water problem was not that extreme in the villages. The water was unavailable twice in a week. The villagers stored the water in jerry cans or small tanks to reserve the water.
Likewise, Tharpaling Datshang at Gyatsa is also facing water shortage. "There is an urgent need to solve the drinking water problem," Khenpo Karma Leki said. He added that without sufficient water, monks are facing sanitation problem. The water sources are very far away from Datshang. "It is caused by drying sources, an aging storage and distribution system," he said.
Some people who live nearby monastery areas have resorted pulling in their own drinking water from reliable sources. Datshang has placed a water tank at the source but not been able to construct their drinking water system.
Chhumig Gup, Jambay said that solving drinking water problem is another priority in the gewog. "There are 11 areas identified according to the severity of water problem for the construction of water reservoirs, water taps and some maintenance works," he said.
He added that there are around six water taps in each village and reservoirs. This year, a new reservoir was constructed in Nimalung dratshang, which has a capacity to store 12,000. Maintenance of reservoirs at Yamthrak and Phurgeon villages were also carried out.
He said, "Since the gewog has a separate budget, the gewog has not discussed or intervened the dzongkhag." He added that the water is never a big issue, gewog administration has already solved most of the drinking water problems in the gewog and they are still working on it with the balance budget in the gewog.
"We are already planning to solve the problems this year if the budget is sufficient but if not we already have proposed the budget for next year," Jambay said