Druk Holding and Invest­ments (DHI) launched Busi­ness Acceleration Program (DHI BizAP) app yesterday at Start-Up Center, Changza­mtog, Thimphu in the pres­ence of Chief Guest, Hon'ble Chief Justice, Tshering Wangchuk, Chief Advisor to the Interim Government, distinguish guests and par­ticipants.
The app launched was initiated by DHI, mainly to promote Cottage and Small Industries (CSI) sectors in Bhutan with the govern­ment's mandate to ''Promote and encourage entrepre­neurship and business de­velopment through venture capital and other required institutional support."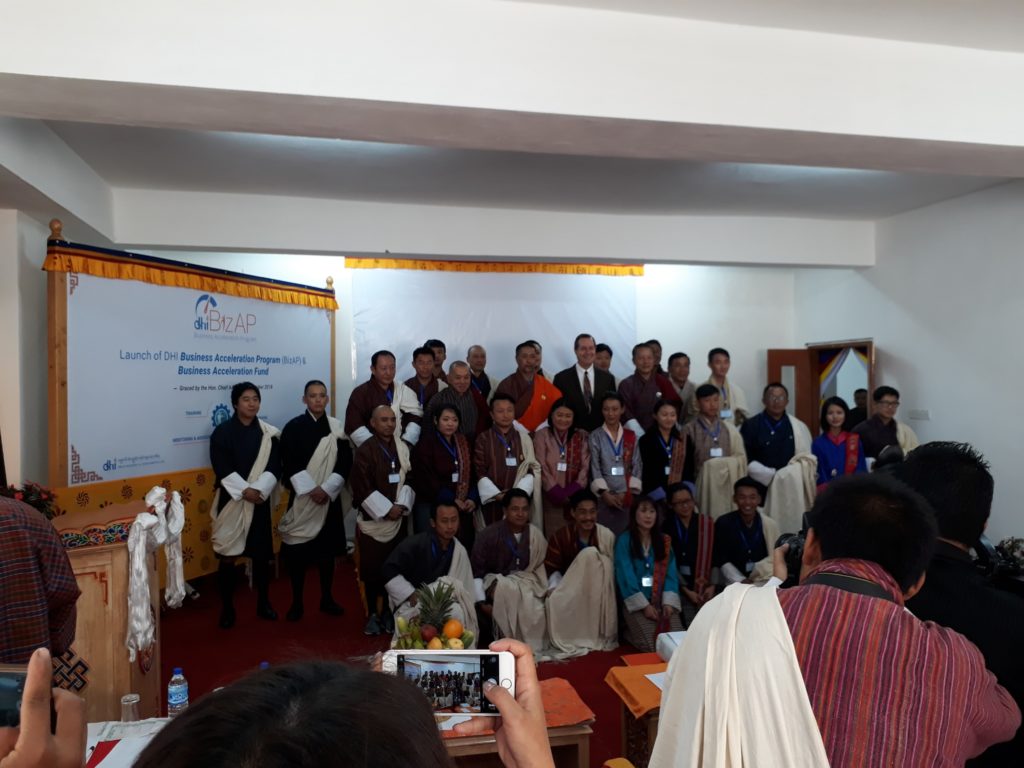 Lhakyi Tenzing, associ­ate analyst of DHI presented the key components of the comprehensive entrepre­neurship program.
Training and Skill de­velopment: the training is delivered by global experts where entrepreneurs will undergo 33 days training to innovate, sharpen entre­preneurs' value proposition, define target market, get­ting feedback of products/ technology and determine effective business model for an enterprise.
Financing: finance being major constraint in entre­preneurship promotion in Bhutan, DHI will support with maximum Nu. 5,00,000 sourcing from equity con­tribution with an adminis­trative fee of 5% per annum without interest and owner­ship.
Membership: DHI will mentor relationships with experienced business per­sons to build network in accessing market who can offer strategic advice with respective venture to all en­trepreneurs.
Monitoring and Evalua­tion Systems: DHI will mon­itor and evaluate the perfor­mance of the entrepreneurs timely to ensure success of the venture.
DHI has hired the service of IC2 Institute of Texas, USA as a partner in training methodology which will pro­vide training and certify the local trainers and profession­als in next one year to take forward sustainably.
Lhakyi Tenzing said, "In a fast moving hi-tech world, the launch of BizAp will enhance the entrepreneur­ship translating into bigger world.'' She said that DHI hopes that this app will be­come productive as entre­preneurs are innovation of diverse economy and are confident that they will be well equipped.
The Chief Justice said that it's a pleasure to ad­dress to the young entrepre­neurs as they are essence, country's minds, future, and a crucial component of our country's development and progress. Under the vision­ary leadership and guidance of benevolent Monarchs, Bhutan has witnessed rapid and fundamental changes both in the economic and legal domain smoothly. He said, ''Today's younger gen­eration is more aware about the world around them, you are more technologically ad­vanced and more inter-con­nected compared to previous generation of youth. Howev­er, today's youth across the globe are facing higher level of unemployment. Lack of unemployment opportuni­ties and non-inclusion of our youth in development priorities will lead to stagna­tion of our nation's progress. These concerns cannot be addressed by only focusing on increasing government employment opportunities. As an alternative, we need to take a fresh approach to empowering our youths by equipping them with neces­sary skills create their own employment opportunities-and as you succeed, become empowered, you are duty bound to reciprocate by cre­ating employment opportu­nities for others.''
Chief Justice also said that there is opportunity to boost quality and quantity employment by harnessing and innovating the energy of youth through entrepre­neurship. He told that youth have the moral responsi­bility to become leaders of tomorrow and urged to be mindful of constitution to protect environment and preserve rich biodiversity preventing all forms of eco­logical degradation as trust­ee of the Kingdom's natural resources and environment. " To expand opportunities for entrepreneurship, con­certed action is needed to reached out to our youth. BizAp is a fine example of a positive approach towards supporting and empowering our young entrepreneurs through exchange of ideas, sharing of knowledge and development of skills. Such initiatives of DHI to promote and support entrepreneur­ship are truly commend­able," Chief Guest addressed to the young entrepreneurs.
Managing Director of IC2 Institute, Global Commer­cialization Group, Glenn E. Robinson said that he is proud that with the launch of BizAp, Bhutan became the 44th country to be en­gaged in the creation hi-tech plan scenario. This program with the University of Texas, US is to collaborate profes­sionalism and methodology with Bhutanese people.
The founder of I Hub Bhutan, Tashi Wangdi shared his challenges in starting entrepreneur where he faced acceptance prob­lem from the family and had to spent night in the of­fice. Tashi Wangdi featured hardship encountered by all the young entrepreneurs in Bhutan. He said, "I hope that with the help DHI, all the young entrepreneurs will succeed
By Sangay Rabten