With Bhutan well into the digitalization age , it is not spared from the risks of cy­ber exploitation. It is risker with not many aware of cyber crimes.
To create awareness on this important issue, the Min­istry of Information and Com­munications (MoIC) in col­laboration with International Telecommunication Unit (ITU) conducted a workshop to improve Cyber security and to develop the first Na­tional cyber security strategy in the country.
Cyber security is defined as the protection of comput­ers, networks, programs and data from unauthorized ac­cess or attacks that are aimed for exploitation.
To ensure a high-level ap­proach to cyber security, fa­cilitator Dr. Marco Gercke, the director of Cybercrime Research Institute conduct­ed a cyber security incident stimulation exercise for more than two hours. He said the exercise was not to scare anyone or put anyone under pressure, the idea is purely an 'awareness rising'.
"The stimulation exercise may not totally prevent the systems from cyber attacks but it will provide a certain degree of guidance. Further­more, it will give a good un­derstanding on what could possibly happen to the coun­try if such attacks happen."
The MoIC Minister Karma Donnen Wangdi graced the workshop.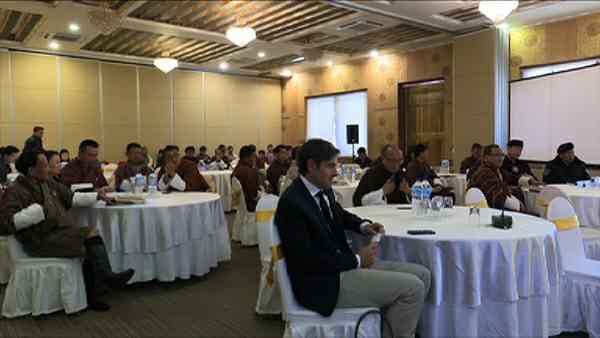 Since the introduction of internet in Bhutan in 1999, it has evolved from an infor­mation exchange platform to become the backbone of mod­ern business, infrastructure and social network.
Today, many governments are transacting online and the internet is transforming how we socialize and do busi­ness. The reliance of our so­ciety on digital infrastructure is growing, where cyber space remains venerable. At the same time, methods used by malicious actors are rapidly evolving and Bhutan is not an exception for such attacks. "The current challenge Bhu­tan is facing is a lack of skills, knowledge and experience among Information and Com­munication Technology (ICT) professionals and in the area of cyber security," said Ly­onpo Karma Donnen Wangdi, MoIC.
Cyber attack is ranked as one of the biggest threat facing the business world to­day. An attack on a computer processing or communica­tion network could cause 50 billion to 120 billion dollar of economic damage. "The focus is no longer on preven­tion, you can't stop it, it is now about better detection and readiness for the inevitable in order to survive in today's world," commentator Deepi­ka Rai said.
Dr. Marco Gercke, will be in the country for a week to discuss and engage with various stakeholders to estab­lish Bhutan's cyber security strategy. He will also discuss on child online protection, promote and improve institu­tional cyber culture and cre­ate awareness on cyber prac­tice across government and business to enable all Bhuta­nese to be secure online. "We have been fortunate that such attacks have not happen and if such attacks happen, I don't know if we have these mecha­nisms placed or not. And we are also trying to work on this," said Jigme Thinley Namgyal, the director general of MoIC.
Today, Bhutan has Bhutan Computer Incident Response Team (BtCIRT), developed in 2016 which have dealt with over 250 incidences but it has not developed a holistic and comprehensive policy. "We are still venerable," he added. The stimulation is a good way of sensationalizing the gov­ernment, the executives and the internet user. The minis­try is also planning to carry out similar exercise for other members very soon.
By Yeshey Choden