First workshop between the judiciary and media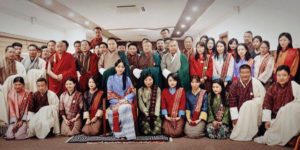 By Kinley Yonten
To have better understanding between the judiciary and media, Drangpons from the judiciary, legal professionals and journalist from different media houses attended a two-day workshop to share expectation from each other.
It was the first workshop for representatives from the media conducted by the judiciary to help understand reporting on legal issues.
Some of the journalists discussed on whether or not it will constitute naming and shaming if the journalist writes a story with concrete evidences to prove their writings.
High Court Justice Lungten Drubgyur told to the members of the media that naming and shaming should be the last resort by police, media and courts. "As a country that upholds the principle of law, the law should be respected," he said.
He added that media houses cannot publish pictures and names. By publishing reports about suspects, the media run the risks of getting sued. "Police may release the identity of the accused only in public interest," Justice Lungten Drubgyur said.
Journalists were briefed on the set up and internal functioning of the courts. The media when reporting on parliamentary or committee proceedings were asked to ensure that published articles or stories are factual.
Other subjects of discussions and presentations involved concept of court and the misconceptions associated with it. From the foregoing provisions of the law, Contempt is defined as an act of disobedience or disrespect toward a court or official, or interference with its orderly process for which a summary punishment is usually given.
Malicious intent simply intended to malign the reputation of the judge who is presiding over the case or has rendered the judgment in favour of the other party to discredit the judge or institution.
While this could be a way to console themselves for the loss of their case, it could also invite contempt proceedings during the pendency of the case, a judge said. Thimphu district court judge Pema Rinzin said, "If media has the right to information, correspondingly, it has the duty to inform correctly."
Participants also discussed ethical reporting, code of ethics of journalists, how to draw the line when the case is under sub judice, issues and challenges related to access to the judiciary and analysis of judgments.
The workshop was organised by journalist Association of Bhutan (JAB) and Bhutan National legal Institute (BNLI) with funding support from Anti-Corruption Commission (ACC).