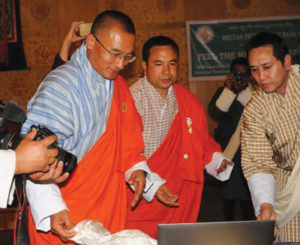 By Tshering
The Bhutan Development Bank Limited (BDBL) launched a new core banking solution, ATM Switching System Migration and Correspondence Bank in Thimphu on Friday.
BDBL was using the Ascend Banking System (ABS), which was procured in 2007, while functioning as a credit institution. Now BDBL will transform its technology infrastructure creating a strong platform to support its business and improve, enhance its operational efficiency and customer service.
The bank started its migration process in April 2016 and within a year, the vendor and bank forged a close collaboration to implement the Finacle banking solution to deliver the value for the investment made by the bank. Finacle was developed by Infosys.
BDBL was using a switch based in Nepal before, meaning whenever clients availed ATM services; it had to be routed through the switch in Nepal, making ATM service delivery inefficient. With the new core banking solutions, ATM switches are expected to be functional at all times, helping the bank to view customer holdings and transactions to create a targeted and customized offering to its customers. BDB has close to 56,000 credit accounts and 159,000 deposit accounts and has three regional offices, 34 branch offices, 17 gewogs field offices, 198 gewogs banking services and 40 ATMs across the country.
The event was graced by Lyonchhen Dasho Tshering Tobgay accompanied by Finance Minister and other officials from different organization.
During the launch, BDBL Board chairman said "we are hoping to give better services and the making the banking services easier for the people in rural areas.
Chief executive officer (CEO) of BDBL, Phub Dorji, said every financial institution has supported the government for building the nation in different fields in rural place for rural development.
Lyonchhen said 64 percent of our people live in rural areas and it is BDBL's responsibility for making banking services easier for the rural people and urged the bank to encourage people in rural areas to use ATMs.
BDBL clients can now access Internet banking and a mobile banking application called BDB mobile for fund transactions like transfer of funds, online payment and utility bill payment and mobile wallet and many more value added services.
The app is available for iPhone and Android operating systems.
Meanwhile, three gewog banking service operators from Orong in Samdrupjongkhar, Chumey in Bumthang and Sephu in Wangduephodrang, were recognized for their customer service.