He talks about his experience in the flim industry.
Kezang Dorji is an actor, popularly known as "Kazi". He joined the Bhutanese movie industry in 2010 as an actor and debuted in the film "Miss Bhutan", directed by Kinley Dorji. It is said that he was introduced to the director by his cousin.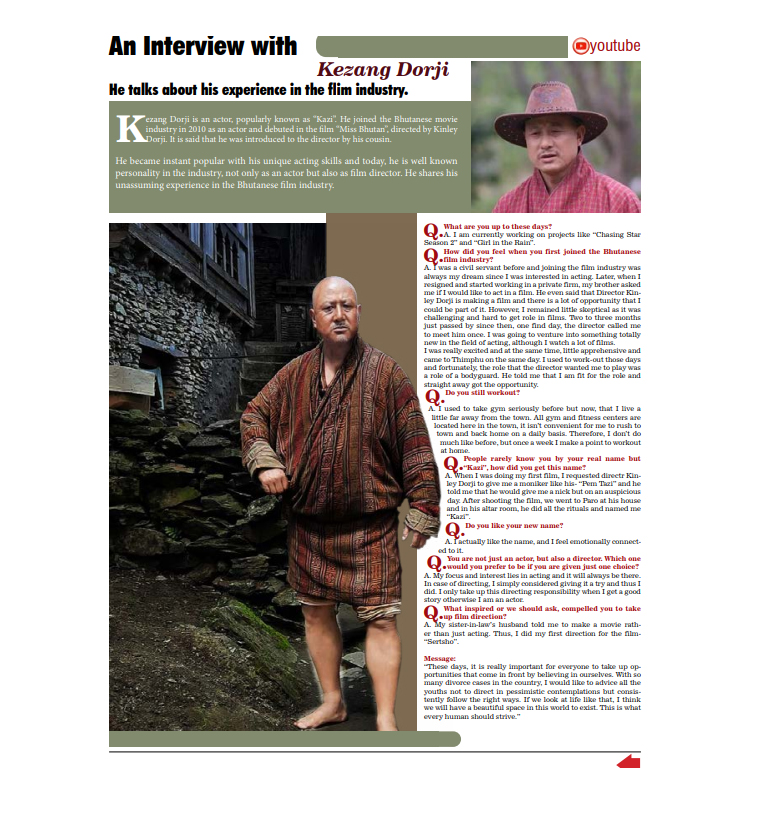 He became instant popular with his unique acting skills and today, he is well known personality in the industry, not only as an actor but also as film director. He shares his unassuming experience in the Bhutanese film industry.
Q. What are you up to these days?
A. I am currently working on projects like "Chasing Star Season 2" and "Girl in the Rain".

Q. How did you feel when you first joined the Bhutanese film industry?
A. I was a civil servant before and joining the film industry was always my dream since I was interested in acting. Later, when I resigned and started working in a private firm, my brother asked me if I would like to act in a film. He even said that Director Kinley Dorji is making a film and there is a lot of opportunity that I could be part of it. However, I remained little skeptical as it was challenging and hard to get role in films. Two to three months just passed by since then, one find day, the director called me to meet him once. I was going to venture into something totally new in the field of acting, although I watch a lot of films.
I was really excited and at the same time, little apprehensive and came to Thimphu on the same day. I used to work-out those days and fortunately, the role that the director wanted me to play was a role of a bodyguard. He told me that I am fit for the role and straight away got the opportunity.

Q. Do you still workout?
A. I used to take gym seriously before but now, that I live a little far away from the town. All gym and fitness centers are located here in the town, it isn't convenient for me to rush to town and back home on a daily basis. Therefore, I don't do much like before, but once a week I make a point to workout at home.

Q. People rarely know you by your real name but "Kazi", how did you get this name?
A. When I was doing my first film, I requested directr Kinley Dorji to give me a moniker like his- "Pem Tazi" and he told me that he would give me a nick but on an auspicious day. After shooting the film, we went to Paro at his house and in his altar room, he did all the rituals and named me "Kazi".

Q. Do you like your new name?
A. I actually like the name, and I feel emotionally connected to it.

Q. You are not just an actor, but also a director. Which one would you prefer to be if you are given just one choice?
A. My focus and interest lies in acting and it will always be there. In case of directing, I simply considered giving it a try and thus I did. I only take up this directing responsibility when I get a good story otherwise I am an actor.

Q. What inspired or we should ask, compelled you to take up film direction?
A. My sister-in-law's husband told me to make a movie rather than just acting. Thus, I did my first direction for the film-"Sertsho".
Message:
"These days, it is really important for everyone to take up opportunities that come in front by believing in ourselves. With so many divorce cases in the country, I would like to advice all the youths not to direct in pessimistic contemplations but consistently follow the right ways. If we look at life like that, I think we will have a beautiful space in this world to exist. This is what every human should strive."