Tshendu Zam is a popular actor who played the infamous role of "Duem Hacham" in the film "Khandro Drowa Zangmo" directed by Kinley Dorji in 2008. For a male actor to portray a villain can be seen as an orthodox and conventional but for a female actor, to get into a negative role and showcasing complex emotions and human frailties can be another. A female negative role which demands the character to play at the enormous proportion of cruelty and heinous as "Duem Hacham" can be inconceivable for many and to do justice to the insanely negative disposition personality of Duem- Duem Hacham of legend of Khandro Drowa Zangmo can be something to profoundly prouder before even considering.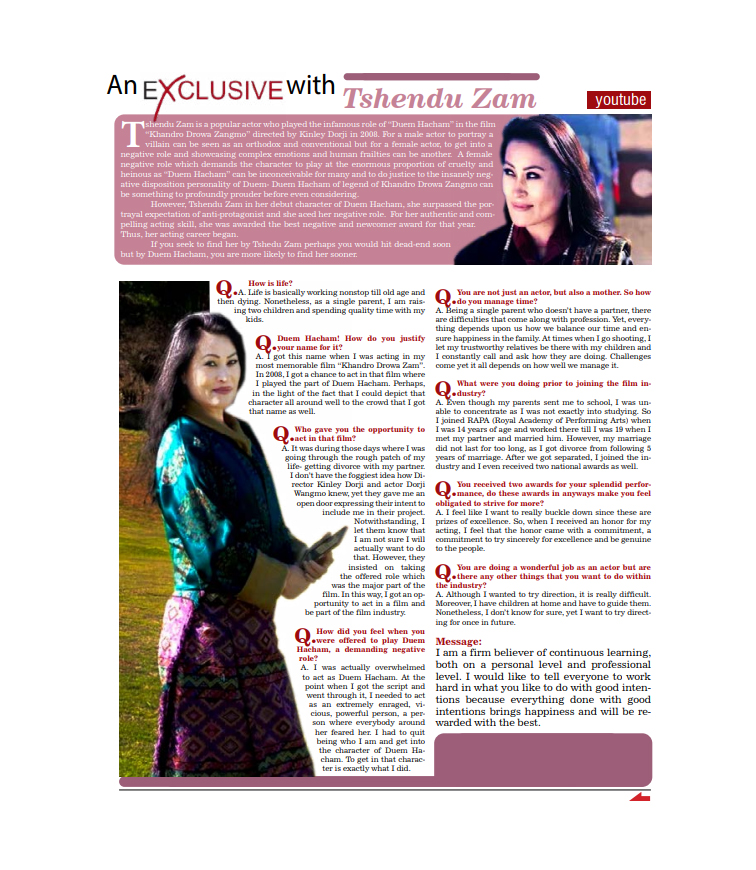 However, Tshendu Zam in her debut character of Duem Hacham, she surpassed the portrayal expectation of anti-protagonist and she aced her negative role. For her authentic and compelling acting skill, she was awarded the best negative and newcomer award for that year. Thus, her acting career began.

If you seek to find her by Tshedu Zam perhaps you would hit dead-end soon but by Duem Hacham, you are more likely to find her sooner.
Q. Q. How is life?
A. Life is basically working nonstop till old age and then dying. Nonetheless, as a single parent, I am raising two children and spending quality time with my kids.
Q. Duem Hacham! How do you justify your name for it?
A. I got this name when I was acting in my most memorable film "Khandro Drowa Zam". In 2008, I got a chance to act in that film where I played the part of Duem Hacham. Perhaps, in the light of the fact that I could depict that character all around well to the crowd that I got that name as well.
Q. Who gave you the opportunity to act in that film?
A. It was during those days where I was going through the rough patch of my life- getting divorce with my partner. I don't have the foggiest idea how Director Kinley Dorji and actor Dorji Wangmo knew, yet they gave me an open door expressing their intent to include me in their project. Notwithstanding, I let them know that I am not sure I will actually want to do that. However, they insisted on taking the offered role which was the major part of the film. In this way, I got an opportunity to act in a film and be part of the film industry.
Q. How did you feel when you were offered to play Duem Hacham, a demanding negative role?
A. I was actually overwhelmed to act as Duem Hacham. At the point when I got the script and went through it, I needed to act as an extremely enraged, vicious, powerful person, a person where everybody around her feared her. I had to quit being who I am and get into the character of Duem Hacham. To get in that character is exactly what I did.
Q. You are not just an actor, but also a mother. So how do you manage time?
A. Being a single parent who doesn't have a partner, there are difficulties that come along with profession. Yet, everything depends upon us how we balance our time and ensure happiness in the family. At times when I go shooting, I let my trustworthy relatives be there with my children and I constantly call and ask how they are doing. Challenges come yet it all depends on how well we manage it.
Q. What were you doing prior to joining the film industry?
A. Even though my parents sent me to school, I was unable to concentrate as I was not exactly into studying. So I joined RAPA (Royal Academy of Performing Arts) when I was 14 years of age and worked there till I was 19 when I met my partner and married him. However, my marriage did not last for too long, as I got divorce from following 5 years of marriage. After we got separated, I joined the industry and I even received two national awards as well.
Q. You received two awards for your splendid performance, do these awards in anyways make you feel obligated to strive for more?
A. I feel like I want to really buckle down since these are prizes of excellence. So, when I received an honor for my acting, I feel that the honor came with a commitment, a commitment to try sincerely for excellence and be genuine to the people.
Q. You are doing a wonderful job as an actor but are there any other things that you want to do within the industry?
A. Although I wanted to try direction, it is really difficult. Moreover, I have children at home and have to guide them. Nonetheless, I don't know for sure, yet I want to try directing for once in future.
Message:
I am a firm believer of continuous learning, both on a personal level and professional level. I would like to tell everyone to work hard in what you like to do with good intentions because everything done with good intentions brings happiness and will be rewarded with the best.