In memory of a lost son
Although not a popular sports in the country, Thim­phu got its first skate park earlier this week.
The park at Babena, Jungshina was opened to public on November 20. Ed­ucation minister Jai Bir Rai inaugurated the park.
The park was built with financial support from an American family who spent US$98,000 for the construc­tion of the park. It was built in the memory of Johnny Strange, their son, who died at the age of 23 in a wing suit flying accident in Switzer­land. Johnny Strange was the youngest to climb all the seven peaks before he at­tended the age of 17.
He first visited Bhutan in 2011 to climb the highest mountain in Bhutan, Gang­kar Puensum 7,570 meters peak. At the inauguration ceremony, Johnny's fam­ily and his best friend Tom Schaar, a professional skater took part. The Element and Vans companies from Cali­fornia provided free skate­board to the participants.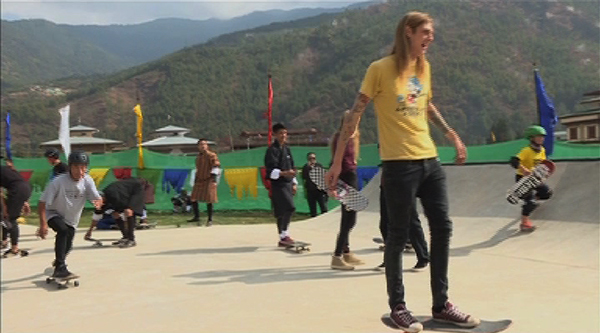 The park, approximately 650sqm constructed on a 6.5 acres of land provided by the Thimphu Thromde. Although the park was to complete in four months, due to the de­lay in supply of construction materials, it took almost sev­en months. "We even have plans to build other recre­ational like basketball court, football ground, volleyball ground, table tennis and cycling," said Sonam Kinga Tshering, Secretary General of Bhutan Olympic Commit­tee (BOC)
The skateboard is de­signed by Hardcore Skate­park Company  based in California. It is designed in such a way that it portrays the Eight peaks "Seven peaks represent seven continent's peak that Johnny climbed and the eighth peak signifies Gang­kar Puensum which re­mained unclimbed," Sonam Kinga Tshering said.
Apart from a few children playing on roadsides, skate­boarding is not popular in Bhutan. However with the construction of the Skate­board Park, many children are showing interest in it. Pema Lethro, 24, one of the participants on the inaugu­ral day said, "Although I am interested in skateboarding, I cannot go daily due to the distance. I am planning to visit during weekends."
Another skateboard en­thusiasts Phuntsho Wangdi said, "It was tough for me to get balance in the begin­ning, but I have improved." "I feel blessed as it is the part of Olympic game and it is another platform where we youth can engaged our time fruitfully," he said.
Bhutan Olympic Com­mittee plans to add tradi­tional paintings at the park to give a Bhutanese touch to the American sport.
By Pema Choden