… Female pass percentage too surpasses males' by 0.29 percent
In both the categories, Bhutan Certificate of Secondary Examination (BCSE), and Language and Cultural Studies Certificate (LCSC), girls are head and shoulders above the boys.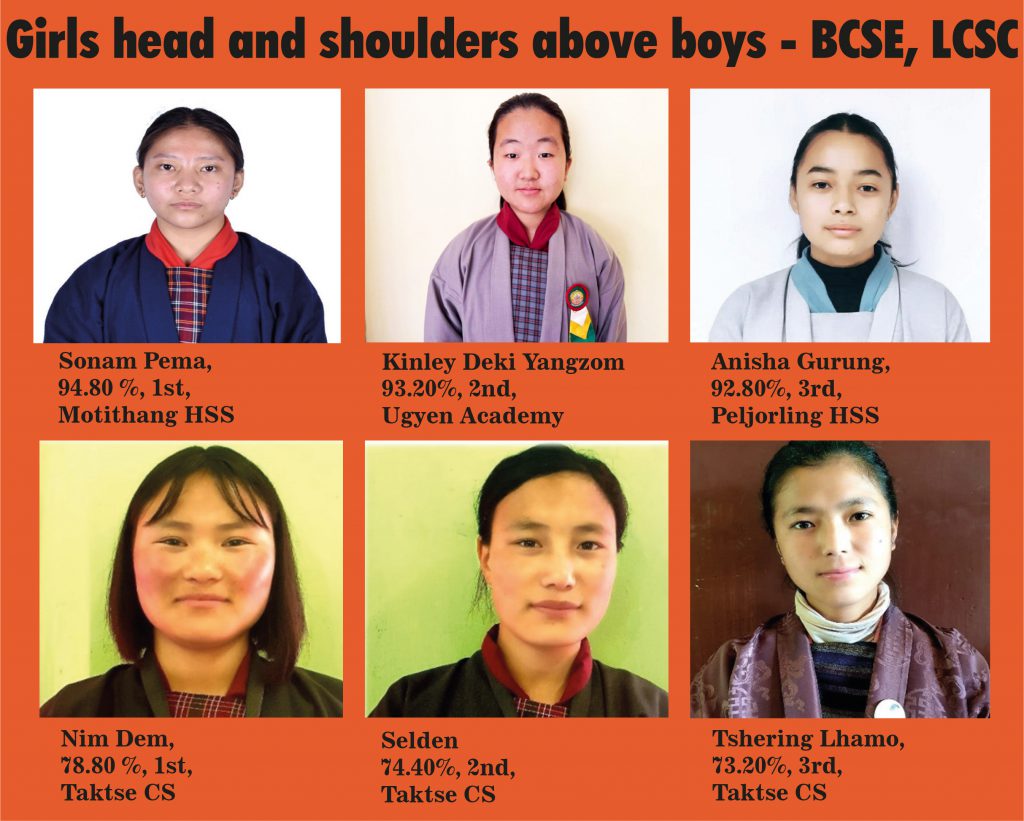 The pass percentage is also higher for females, surpassing the males by 0.29 percent. The pass percentage for female is 70.25 percent while the pass percentage of male is 69.96 percent.
In subjects like English, Maths and Science, from the 12,546 students of whom 5806 were males and 6740 females, in English 93.35 percent males and 96.26 percent of females passed the subjects. The mean score of males were 63.47 percent and females 66.1 percent and the total mean is 64.44 percent.
In Maths, 50.76 percent of males and 45.95 percent females passed. The males' mean score was 53.38 and females 52.21. The average mean was 52.75.
Class X students performed better in Science with 77.21 percent of males and 73.22 percent of females passing. The mean marks for males were 62.38 and for females 61.91. The average mean was 62.12.
In the BCSE category, the national topper is Sonam Pema from Motithang Higher Secondary School. She scored 94.80 percent and bagged the first position. Following her, Kinley Deki Yangzom from Ugyen Academy scored 93.20 percent bagging the second position and Anisha Gurung from Peljorling Higher Secondary School scored 92.80 percent bagging the third position.
In the LCSC category, all the toppers are from Taktse Central School. Nim Dem scored 78.80 percent, she got the first position, Selden with 74.40 percent secured the second position and the third position is secured by Tshering Lhamo scoring 73.20 percent.
For Kinley Deki Yangzom, it is the compassion and care of His Majesty that motivated her. "My biggest inspiration is our King, it is His Majesty's compassion and care for all the youths that motivated me to give my best," she said, adding, 'I was also inspired by all the great women that Bhutan saw till this date, this has encouraged me to push my boundaries to do better."
Sonam Pema's success comes from her thought to make her parents and teachers proud.
For Anisha Gurung, her inspiration has been her teachers' and parents' faith in her. "Right from primary classes, they had high hopes for me," she said, adding, 'I was inspired to always do my best and never let them down.'
Nim Dem says hard work is everything. "Hard work makes things move, makes life, it is a positive driver for success," she said. "Maybe inspiration is the only thing that makes things move in a positive way, in a fulfilling way," she added.
Selden re-echoes the quote 'hard work is another name of miracle'. "I was amazed by the success that I finally made," she said, adding, 'My parent's advice and teachers support inspired me to study best at my level' and thanks everyone.
Thanking His Majesty, and her school, Tshering Lhamo points that hard work and consistency is the key to success. "I am very grateful that I have shown the capacity and the ability," she said. She added: "To become a successful person one must believe in oneself."
Meanwhile, 12,546 students from 137 schools (130 government, and seven private school) who appeared in the class ten examinations, 8797 cleared the board examinations.
The pass percentage is 70.12 percent, the lowest compared to the past five years.