… 𝒔𝒕𝒂𝒇𝒇 𝒊𝒏 𝒉𝒐𝒔𝒑𝒊𝒕𝒂𝒍𝒔 𝒂𝒓𝒆 𝒂𝒍𝒓𝒆𝒂𝒅𝒚 𝒇𝒂𝒄𝒊𝒏𝒈 𝒊𝒏𝒕𝒊𝒎𝒊𝒅𝒂𝒕𝒊𝒐𝒏 𝒇𝒓𝒐𝒎 𝒂𝒑𝒑𝒍𝒊𝒄𝒂𝒏𝒕𝒔 𝒇𝒐𝒓 𝒏𝒐𝒕 𝒓𝒆𝒄𝒆𝒊𝒗𝒊𝒏𝒈 𝒂𝒑𝒑𝒐𝒊𝒏𝒕𝒎𝒆𝒏𝒕𝒔 𝒐𝒏 𝒕𝒉𝒆𝒊𝒓 𝒕𝒊𝒎𝒆 𝒂𝒏𝒅 𝒐𝒏 𝒕𝒉𝒆𝒊𝒓 𝒆𝒙𝒑𝒆𝒄𝒕𝒆𝒅 𝒅𝒂𝒕𝒆
Phurpa Wangmo

With recent spike in numbers of Bhutanese seeking to leave abroad for studies and working have saddled e-medical services at Jigme Dorji Wangchuck National Referral Hospital (JDWNRH) in Thimphu. Sound E-medical certificate is prerequisite to apply visa for those countries.

In order to reduce the burden of e-medical services for overseas visas at Jigme Dorji Wangchuck National Referral Hospital (JDWNRH) and for efficient delivery of service, the health ministry has initiated to offer the service from the Eastern Regional Referral Hospital in Mongar, and Central Regional Referral Hospital in Gelephu from last month.

With increasing number of visa applicants to Australia and other countries, JDWNRH and other two regional referral hospitals are working hard to provide prompt services to the people and to clear the backlogs. However, these three hospitals are still having hard time to service effectively due to shortage of human resources in some fields of service and few individuals are already overburdened, having to ensure undisrupted services with off hour duties.

Some of the staff in hospitals are already facing intimidation from applicants when they don't get appointments on their time and on their expected date.

Starting January 1, 2023 till March 24, JDWNRH have facilitated medical screening for 4993 applicants and they are currently providing the services to 40 clients daily from Monday to Friday and 64 clients on Saturdays. These numbers are exclusive of children below 10 years who does not require x-ray screening.

Jigme Namgyel, JDWNRH Director said, "Hospital is primarily responsible for providing patient care services, which in itself is a big challenge since the daily workload is quite huge. An E-medical service is an additional workload provided during off hours. As such, JDWNRH capacity is limited due to constraints in HR as well as having to ensure that the patient care is not compromised".

"Further, the numbers of clients have increased lately due to May to July intake by the universities. Since, the beginning of the year till last month, the appointment was within a month or half. We are continuing the same daily appointment which includes 5 batches (40 clients) from Mondays to Fridays and 8 batches that is 64 clients on Saturdays", said Director.

Due to a sudden surge in clients, JDWNRH is unable to cope with the services but however the hospital has been continuously providing the services to the maximum capacity without disrupting patient-care services and also trying to balance the work-life of the staff.

The Director also stated, "The daily e-medical service provided to clients in two Regional hospital is still minimum due to HR shortage and other logistic problems but people still prefer to avail service from JDWNRH since the biometric services is available only in Thimphu. Coinciding with the academic intakes, erratic flow of clients is very difficult to manage during the surge".

Tashi Penjor, who is currently working in one of the offices, said that it is very difficult to get an appointment these days as some of the consultancies are generating Health Assessment Program Identification Number (HAP ID) even before the issuances of offer letter and Confirmation of Enrollment (CoE).

"I have already lodged my visa last week and received my HAP ID but I got my appointment only for June 9. I am worried that my visa would get delayed since I have to do medical screening within 28 days", added Tashi.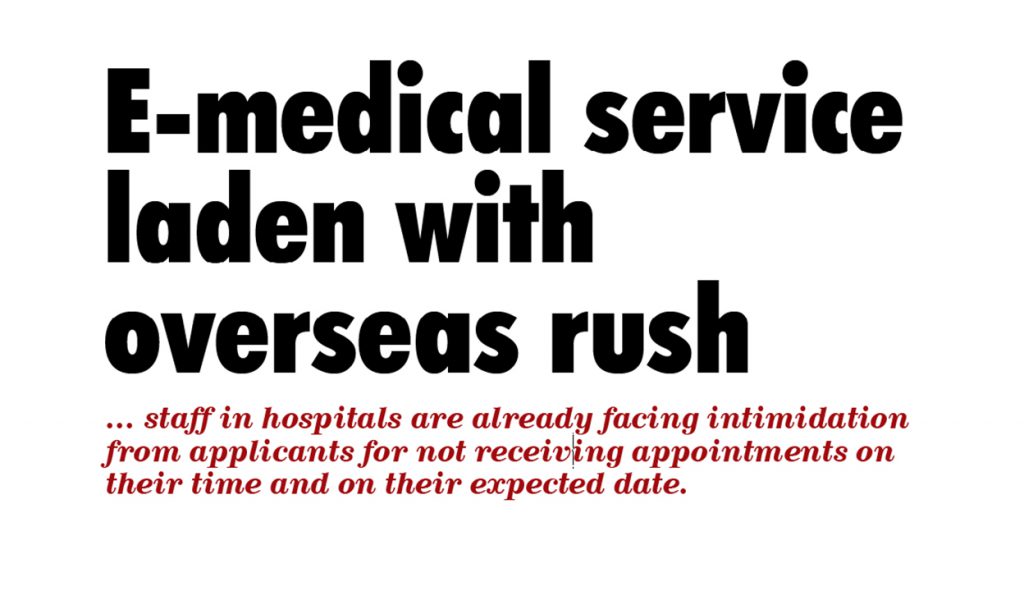 Another applicant, Chimi Yangdon said that she got her appointment only for the month of May and she is worried that she may not be able to report to college on April 21 as she needs to take English package in Phoenix Academy in Western Australia.

Namgay, who is going on tourist visa said that she prefer doing medical screening at JDWNRH since it is convenient for her to do biometric at the same place and need not have to travel different places".

Karma who is currently working as teacher said that he would prefer medical screening at any hospital but it is very difficult to get an early appointment even in two referral hospitals.

The JDWNRH Director further request to those with later dates to allot their slots to those with earlier reporting dates and the hospital has been receiving applications for earlier(bring forward) appointments. For such cases, it's only possible to bring forward if there are cancellation by other clients".

"Clients are also requested to stick to their respective appointment dates and avoid last minute appointment date change requests since it will affect other appointments. Rather than leaving everything at the last minute, plan and seek appointments well in advance", added Director.
Currently there are four radiologists at JDWNRH and one each in two referral hospitals. JDWNRH have recorded more than 9 thousand applicants till 24 June 2023 excluding two referral hospitals.
It was learned that Bhutan Quality and Professions Certification Authority under Ministry of Education and Skills Development has recorded 1500 students excluding their dependents who have received their visa to study abroad within last two and half months.