𝑺𝒉𝒆 𝒕𝒂𝒍𝒌𝒔 𝒂𝒃𝒐𝒖𝒕 𝒉𝒆𝒓 𝒆𝒙𝒑𝒆𝒓𝒊𝒆𝒏𝒄𝒆 𝒊𝒏 𝒇𝒊𝒍𝒎 𝒊𝒏𝒅𝒖𝒔𝒕𝒓𝒚
Kesang Wangmo burgeoned into a fine actress from a contender of Miss Bhutan in 2010 to the side lead actor in a Bhutanese television series. With her talents, she advanced to the major role in many films and won best viewer's choice award in 2022. She has even produced a film and is currently one of the finest actors in the Bhutanese film industry. Besides, her immaculate acting skills, her innate quality to speak with eloquence and fluency have made her to be a successful anchor for a reality television program-"Singing Star of Bhutan".
Q. When did you join the film industry?
A. I have always been keen on acting since childhood. I had a conflicting feeling where I felt that I would not get a platform to pursue acting however, I disapproved of it. Assuming that if we are truly keen on something and putting our heart and soul in it, we can truly make it happen and hence, the sky is the limit. As I was persistent, I could be part of the film industry in 2011 when I was offered a side role in a film.

Q. Before joining the film industry, what have you been doing?
A. Before that, maybe I was too focused to pursue acting and I wasn't really doing anything substantial to prove. During that hiatus of my life, I had been depending on my parents.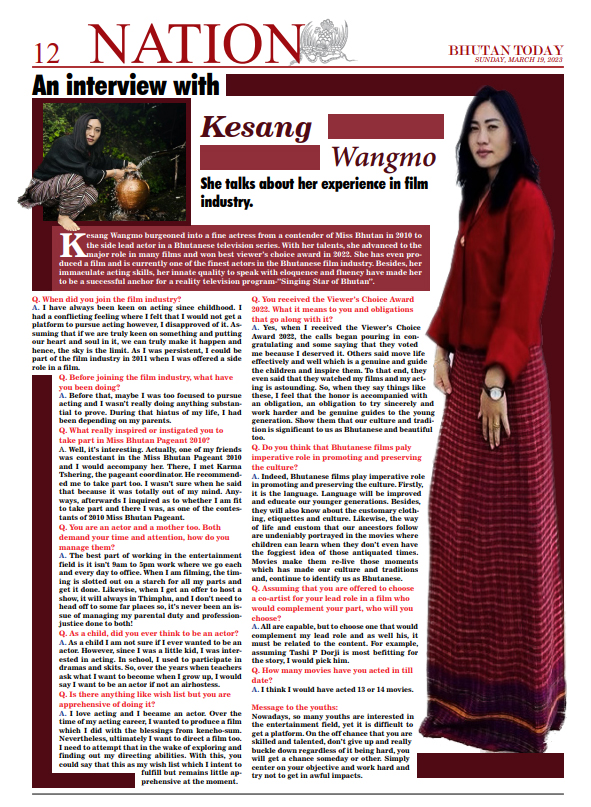 Q. What really inspired or instigated you to take part in Miss Bhutan Pageant 2010?
A. Well, it's interesting. Actually, one of my friends was contestant in the Miss Bhutan Pageant 2010 and I would accompany her. There, I met Karma Tshering, the pageant coordinator. He recommended me to take part too. I wasn't sure when he said that because it was totally out of my mind. Anyways, afterwards I inquired as to whether I am fit to take part and there I was, as one of the contestants of 2010 Miss Bhutan Pageant.

Q. You are an actor and a mother too. Both demand your time and attention, how do you manage them?
A. The best part of working in the entertainment field is it isn't 9am to 5pm work where we go each and every day to office. When I am filming, the timing is slotted out on a starch for all my parts and get it done. Likewise, when I get an offer to host a show, it will always in Thimphu, and I don't need to head off to some far places so, it's never been an issue of managing my parental duty and profession-justice done to both!

Q. As a child, did you ever think to be an actor?
A. As a child I am not sure if I ever wanted to be an actor. However, since I was a little kid, I was interested in acting. In school, I used to participate in dramas and skits. So, over the years when teachers ask what I want to become when I grow up, I would say I want to be an actor if not an airhostess.

Q. Is there anything like wish list but you are apprehensive of doing it?
A. I love acting and I became an actor. Over the time of my acting career, I wanted to produce a film which I did with the blessings from kencho-sum. Nevertheless, ultimately I want to direct a film too. I need to attempt that in the wake of exploring and finding out my directing abilities. With this, you could say that this as my wish list which I intent to fulfill but remains little apprehensive at the moment.

Q. You received the Viewer's Choice Award 2022. What it means to you and obligations that go along with it?
A. Yes, when I received the Viewer's Choice Award 2022, the calls began pouring in congratulating and some saying that they voted me because I deserved it. Others said move life effectively and well which is a genuine and guide the children and inspire them. To that end, they even said that they watched my films and my acting is astounding. So, when they say things like these, I feel that the honor is accompanied with an obligation, an obligation to try sincerely and work harder and be genuine guides to the young generation. Show them that our culture and tradition is significant to us as Bhutanese and beautiful too.

Q. Do you think that Bhutanese films paly imperative role in promoting and preserving the culture?
A. Indeed, Bhutanese films play imperative role in promoting and preserving the culture. Firstly, it is the language. Language will be improved and educate our younger generations. Besides, they will also know about the customary clothing, etiquettes and culture. Likewise, the way of life and custom that our ancestors follow are undeniably portrayed in the movies where children can learn when they don't even have the foggiest idea of those antiquated times. Movies make them re-live those moments which has made our culture and traditions and, continue to identify us as Bhutanese.

Q. Assuming that you are offered to choose a co-artist for your lead role in a film who would complement your part, who will you choose?
A. All are capable, but to choose one that would complement my lead role and as well his, it must be related to the content. For example, assuming Tashi P Dorji is most befitting for the story, I would pick him.

Q. How many movies have you acted in till date?
A. I think I would have acted 13 or 14 movies.
Message to the youths:
Nowadays, so many youths are interested in the entertainment field, yet it is difficult to get a platform. On the off chance that you are skilled and talented, don't give up and really buckle down regardless of it being hard, you will get a chance someday or other. Simply center on your objective and work hard and try not to get in awful impacts.